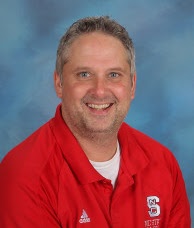 Phone:
Email:
Degrees and Certifications:
BA in Psychology, University of Buffalo 1991 Med in Counselor Education, University of New Hampshire 1996 Previous licensure: New Hampshire, Massachusetts Current licensure: North Carolina
Mr.

Chris Larose

Hi. My name is Chris LaRose and I have had the privilege to address the needs of kids and families, across a variety of settings and ages, for over 25 years. After relocating from Southern California (grew up in Upstate New York), I joined the Wake County Schools, working at Ballentine ES for 1 year and at Holly Ridge ES for the past 5 years as a school counselor. This year, I am excitedly joining a terrific school (Oakview!) as a 50% counselor. Having worked as a high school counselor for 5 years fresh out of graduate school, when I returned to the school setting, I specifically chose the elementary level because I truly believed that it was there I could have the most meaningful impact on the lives of children. I have been thrilled to find that my instinct was correct. I gain enormous satisfaction from this work and feel truly grateful to occupy a place in the development of young lives.


When I'm not bloviating about my career, I really the enjoy following: reading, travel, listening to music (I think it's the most powerful form of our expression,) learning about this world, gathering with friends, being with family, feeling helpful around the house, pursuing fitness, golfing poorly, wishing good things for the Buffalo Bills, witnessing good things from the Boston Red Sox, and being in the lives of Jill (my age,) Brandon (22,) Abbey (19,) and Scout (5 and a dog.)

Thanks for reading this and thanks for sending your kids to Oakview.