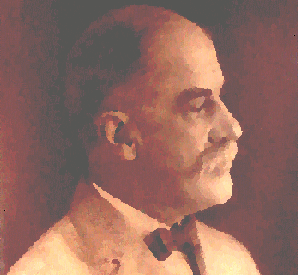 Fred A. Olds Elementary school opened in 1927, and was originally called West Raleigh Grammar School. The school had seven classes, one for each grade from first through seventh. The first PTA, organized in 1927, began the drive to change the name to honor Colonel Fred A. Olds.

Who was this man that our school is named after?
Fred Olds liked to tell folks he was "a man without a country," saying he was born on a ship in the Atlantic Ocean, although his birth certificate places his birth in Pitt County.

He grew up in Hillsborough and Cary, which were then small farming communities. In 1867, when he was 14, he and a friend walked to Raleigh from Cary to hear then-President Andrew Johnson, a Raleigh native, give a speech.

As a young man, he served in the State Guard, where he rose to the rank of quartermaster -- and where a chance event sparked a lifelong enthusiasm for history. Col. Olds went to clear what appeared to be insignificant junk from the state arsenal. But when the secretary of state inspected the material, he discovered a rich archive of early records stretching back to colonial times, including the Journal of the Provincial Congress that adopted the Constitution of 1776.

The secretary's discovery lit a fire in Fred Olds' heart. When he left the military in 1880, he joined the Raleigh Daily News and started an editorial campaign calling on people to save historic documents and artifacts, even asking that they be sent to him.

For some 40 years he collected items connected to North Carolina's past. Among his best finds were a first edition of Sir Walter Raleigh's History of the World, a flag from the American Revolution and an early map of the state. He traveled all over the state, meeting people and writing their stories, until he was 75.

His collection became the basis for the original history museum when the Hall of History opened in 1902. Col. Olds was the Hall of History -- curator, collector, guide, historian and custodian.

Today you can see a statue of Fred A. Olds in front of the North Carolina Museum of History. There are photographs and writings about Mr. Olds in the museum. There is also a case that features artifacts from his original collection.

Fred Olds loved people, especially children. He was a master storyteller and could infect a crowd of children with his excitement and awe about history and the bits and pieces from long ago that survived to his lifetime.

The Colonel had two sons, and he loved children so much that he organized "Sunshine Clubs" for Raleigh boys and girls. At their weekly meetings he would tell stories or take them to visit the sick and the poor. During the summer they took 10-day trips to the mountains or the coast. During World War I, he organized trips for children to pick cotton on farms around Raleigh. His children's clubs were the seeds from which Girl Scout and Boy Scout troops later grew.

Fred A. Olds died in 1935 at the age of 81.

--------------------------------------
Sources: "The Legacy of Colonel Olds," by Billy Arthur, Tar Heel Profile, The State magazine, April 1989
Also several original essays by N.R. Dunnegan

Go to the N.C. Museum of History to learn more about Fred A. Olds!