Rand Road Elementary first opened in 1990. We became a multi-track year round school in 2007. Currently, we are a single track 4 school with about 575 students. Rand Road serves K - 5 as well as a developmentally delayed pre-K program and two ECS classes.

Each year we have the Rand Road Run which is now in it's 30th year.

Our staff and students have a great respect and openness for nature. This is evident when you visit our campus and see our outdoor learning spaces including a butterfly garden, natural area with nature trail, vegetable gardens and composting bins. We have been awarded azaleas through WRAL and continue to beautify our campus with community volunteers and twice annual beautification events.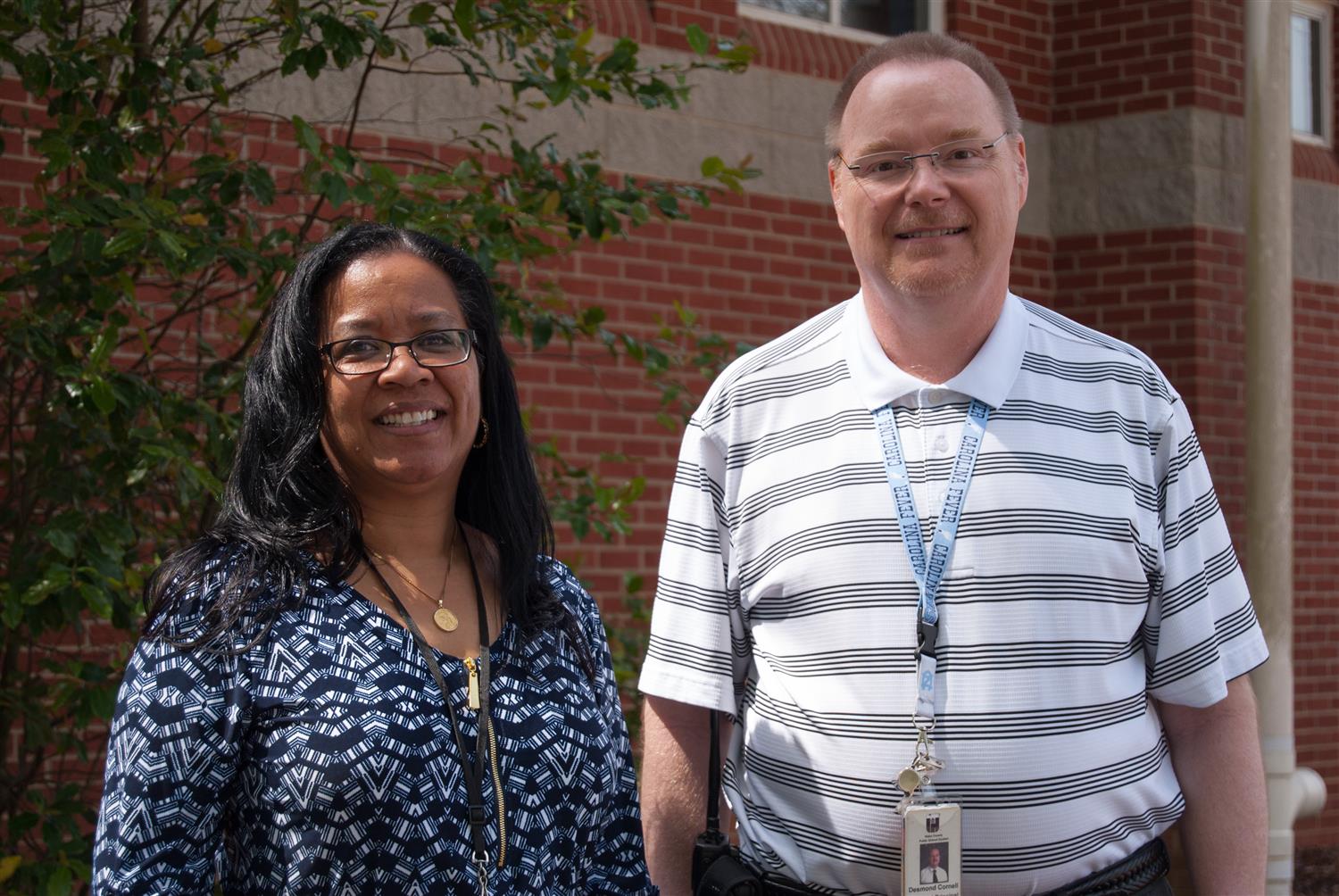 Rand Road is a very special place to work and learn. I am fortunate to be able to work with a talented group of dedicated educators, extremely kind and considerate students, and the most amazing and supportive families and community partners. When I introduce myself, you will hear me say that I am the proud principal of Rand Road Elementary School because we have so much to be proud of.

When I was in elementary school, I watched a fellow student struggle to read and knew then that I wanted to be someone who could help others learn. This led me to follow the path to becoming a special education teacher, earning my bachelor's degree from Northeastern State University.

Upon moving to North Carolina, I began teaching middle school. I had many wonderful experiences as a middle school teacher and as a girls track coach. I began to mentor beginning teachers during this time and realized that it was time for me to re-enter the classroom as a student.

I enrolled in graduate school at UNC and officially became a huge Tarheel fan. I earned my Masters' Degree in School Administration from UNC in Chapel Hill. I had the honor of beginning my administrative career working as the assistant principal at Ballentine Elementary before being named the principal of Rand Road Elementary School in 2006.

Every day that I come to work at Rand Road, I learn something new. There's always something wonderful happening here at our school and I have the privilege of being a part of it all. To see a person learning and growing is one of the most rewarding feelings one can experience and since I am a witness to this on a daily basis, my heart is always full. This has been and continues to be an amazing journey and as I always say, "THERE'S NO PLACE LIKE RAND!"
Desmond Cornell, Assistant Principal
Mr. Desmond Cornell attended Wake County Public Schools from first grade through high school and graduated from Garner High School. After working a year and saving money to attend college, he attended Southwest Missouri State University (now Missouri State University) in Springfield, Missouri. He was a member of Kappa Delta Pi, a national honor society for education majors.

Mr. Cornell began teaching in 1984 at Apex High School, teaching English and journalism, and then transferred to his own alma mater, Garner High School, where he taught English, journalism, and driver's education for 10 years. Mr. Cornell married in 1994, and his wife began teaching at the middle school level. Mr. Cornell and his wife then attended the University of North Carolina at Chapel Hill as North Carolina Principal Fellows to earn their Master's Degrees in School Administration.

Mr. Cornell began serving as an administrator at the middle school level and then decided to move to the elementary level, coming to Rand Road Elementary in 2004. He has been only the second Assistant Principal at Rand Road Elementary since it opened in 1990. In 2005, Mr. Cornell's daughter was born, and she attended Rand Road Elementary. Mr. Cornell enjoys spending time with his family, cooking, reading, and watching educational television.
Our mission at Rand Road Elementary School is to build a learning community to ensure academic, social and character development for all to become responsible and productive citizens in a global society.
As a model school, Rand Road Elementary provides quality instruction to increase achievement for all children, preparing them to compete as responsible and productive citizens in the 21st century. As a learning community, we meet the needs of all children by providing challenging curriculum- based opportunities through the use of multiple instructional strategies. Equipped with highly effective staff, each classroom is an accepting, learning-centered environment, where student achievement is measured in a variety of developmentally appropriate ways. All members of the community build positive, working relationships to support student success in a global society.
Rand Road Elementary school community is committed to the following:

Creating a supportive and respectful learning and working environment;
Providing opportunities for professional growth;
Using multiple instructional strategies and rigor to meet the needs of all students;
Using research-based best practices to facilitate instruction;
Addressing the intellectual, physical, social, and emotional needs of all students;
Collaborating among stakeholders to support students and colleagues;
Having high expectations for all students and staff;
Collecting and utilizing data to drive instruction; and
Engaging students in 21st Century skills.