Cary Band Day Proclamation
The 60th Annual Cary Band Day will be held on Saturday, November 3, at Cary High School's Cooper Field. This year's event features 38 competing high school marching bands from across North Carolina and Virginia, as well as special exhibition performances by the Cary High School Marching Band.
Festivities kick off at 9:45 a.m., and bands will perform until 10:30 p.m., when final awards will be presented.
Admission is $12 for adults, $6.00 for ages 6-10 and senior citizens. Children 5 and under are admitted free. Tickets are available at the gate the day of the competition.
For more information, go to http://www.caryband.org/cary-band-day.
Left to Right: Band Booster President, Mr. Krauss; Cary Band Day Chair, Sandi Williams;
2018 Drum Majors Noal Osagie, Michael Shorb, and Anna Kate Peterson, and Band Director Matt Minick receiving the
Proclamation from Town of Cary Mayor, Harold Weinbrecht.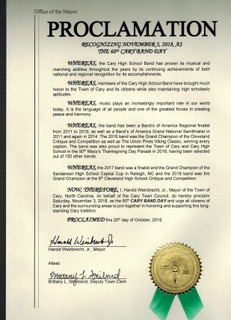 ---