Return to Headlines
WCPSS provides Here Comes the Bus for 2019-20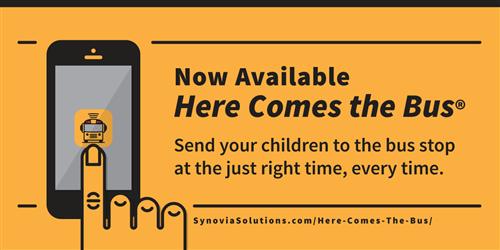 The Wake County Public School System wants families of students at year-round calendar schools who ride the bus to school to know that the bus tracker app Here Comes the Bus is available.
As part of the transition to a new year, the app provider removes all student data from 2018-19 accounts.
Families that have used the app and already have it downloaded to a phone or computer, can simply add their student information again. This will require their student's school ID. Once that data is entered, the app should be ready to go for 2019-20. Parents of more than 5,000 year-round students have already begun using the app this year.
Families that haven't heard of Here Comes the Bus can find information online at www.wcpss.net/herecomesthebus The bus tracker app generates a map that follows a school bus on its route, taking the guess work out of when the bus will arrive at the bus stop.
The website provides links to find the app, download it and open it. There are tutorials on the app in English and Spanish.
Families that need further assistance with the app can talk to other families at their school that use the app or talk with school staff.
---
ESPANOL
El Sistema de Escuelas Públicas del Condado Wake desea que las familias de los estudiantes asisten a las escuelas de ciclo continuo que viajan en autobús a la escuela sepan que la aplicación de rastreo de autobuses Here Comes the Bus (Aquí Viene el Autobús) está disponible.
Las familias que han usado la aplicación y ya la han descargado en un teléfono o computadora, simplemente pueden agregar la información de sus estudiantes nuevamente. Esto requerirá el número de identificación de su estudiante.
Una vez que se ingresan estos datos, la aplicación debe estar lista para el año escolar 2019-20. Las familias de más de 5,000 estudiantes en las escuelas de ciclo continuo ya están usando esta aplicación.
Las familias que no están familiarizadas con la aplicación Here Comes the Bus pueden encontrar información en línea en https://www.wcpss.net/aquivieneelautobus.
La aplicación de rastreo de autobuses genera un mapa que sigue a un autobús escolar en su ruta, eliminando las conjeturas sobre cuándo llegará el autobús a la parada.
El sitio web proporciona enlaces para encontrar la aplicación, descargarla y abrirla. Hay tutoriales sobre la aplicación en inglés y español.
Las familias que necesiten ayuda adicional con la aplicación pueden hablar con otras familias en su escuela que usan la aplicación o hablar con el personal de la escuela.