Meet the Facilities Team
Mr. Ramirez
Head Custodian 
Classrooms
Grade-level classrooms for Pre-Kindergarten through fifth grade instruction
Classrooms that support special education and intervention efforts
Classrooms for art, music, technology and physical education
Common Learning & Activity Spaces
Athletic Field
Cafeteria
Courtyard with playground
Gymnasium
Media Center
Playground
Technology Lab
Technology Resources
Each grade-level classroom and several of the others are equipped with a SMART board, projector, document camera, television with DVD player, and teacher laptop and iPad.
Each grade-level classroom has access to five student computers (either desktop or laptop)
Each grade level shares 10 iPads for student use
The technology lab and media center each host a computer lab that supports one-to-one computing opportunities for students
A few classrooms are piloting the use of Apple TV devices.
Two clicker systems, Mobis, SmartPads, and assorted video recording devices are available to be checked out from the technology lab for classroom use.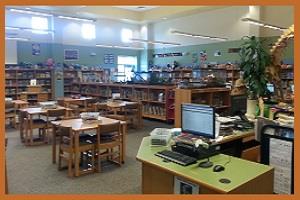 HARES Media Center
The HARES media center is an open space for learning and exploration. We have a strong collection of book materials, with specialized mini-collections such as beginning reader non-fiction, graphic novels, and biographies. Additionally, students have the unique opportunity to observe, learn about, and enjoy a variety of creatures in the growing media center wildlife collection. The center houses a class-sized computer lab available for media specials classes or for teachers to use for whole group work. With projection capabilities and generous seating it is also an ideal place for meetings and presentations.
Last Modified on August 19, 2022