Morning Carpool Procedures

Carpool begins at 8:00 and ends at 8:25 so that students can be at their desk and ready to learn at 8:30.
If you arrive after 8:25, you will need to park and walk your child to the front door and sign them in.
Walk-ups are now allowed. K-2 may walk their child to the front door and 3-5 may walk them to the gate. Students should not walk unattended through the parking lot.
See new carpool route on map below.
Staff will not do health screenings at school, parents should screen students at home following WCPSS guidelines.
Afternoon Carpool Procedures

Please be in the carpool line and ready for dismissal at 3:00. Teachers need to use their planning time to supervise children who are not picked up on time.
Carpool tags should remain visible in passenger window until your child is in the car. First and last name should be written large and clear.
Staff members will escort students to cars. Students must be able to buckle their own car seat or seat belt in a timely manner without the driver leaving the vehicle.
Walk-ups are now permitted during afternoon carpool! Stand on a sticker holding your carpool sign and a staff member will call for your child. You must wear a mask and leave campus once your child comes out.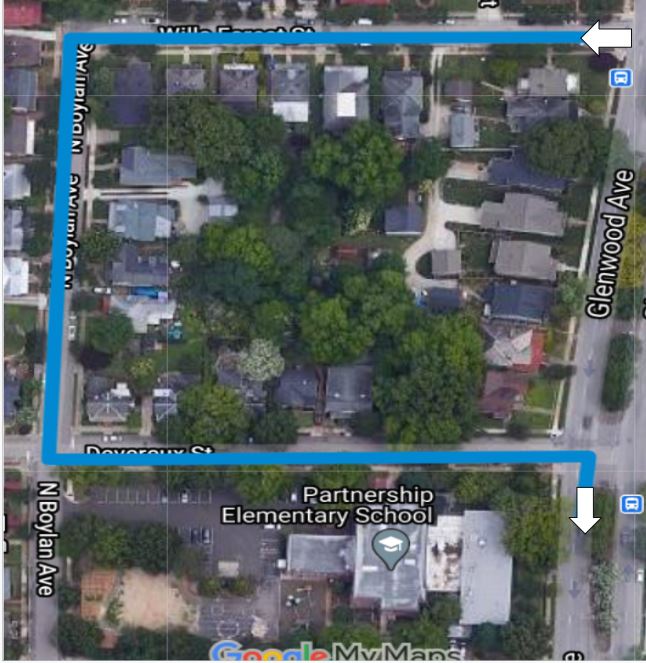 Glenwood Avenue from 440- Right onto Wills Forest - Left

onto Boylan Ave - Left onto Devereux Street- Right onto

Glenwood Ave