Twitter: @WakeECHS
Join Remind for bus changes at: remind.com/join/WECHSbuses
Facebook: WakeECHS https://www.facebook.com/WakeECHS/
Instagram: WakeECHS ttps://www.instagram.com/wakeechs/
Today is an early release day. Students will be dismissed at 11:05 on PHS. Students on PHS will be expected to be off campus by 11:45 am unless arrangements have been made with Mrs. Cummings. Students on North that ride the bus will leave campus at 11:00.

Thanksgiving break begins Wednesday, November 21st for WECHS and WTCC students. Classes will resume on Monday, November 26th.
Our Lost and Found bin on PHS is FULL of project boards, clothing, shoes, classwork, notebooks and other items! Students, please check for missing items. Items left here over winter break will be donated!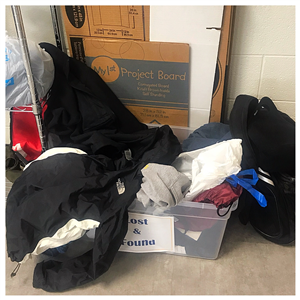 Therapy Dogs will be in the Perry Health Science Library on Wednesday, December 5th and Thursday, December 6th during both lunches. Come relax with the dogs!
Do you own fines for library books? November 13th - December 10th, library fines may be paid with non-perishable food items! One food item clears $1 of fines, up to $20 of overdue fines! No glass, perishables, or frozen items. No singles, individual serving or vending machine items will be accepted. Clear your accounts with this "FOOD FOR FINES" promotion!
Please join us in the HOSA annual food drive for the WTCC Nest. There will be competitions between each Pulse class for the most items donated. Also there will be a competition between campuses! Bring in your donations today! The food drive will continue through November 30th.
Order your WECHS Yearbook today! The cost is now $45 and will increase in price to $50 on Monday, November 26th. Click the link to order: https://www.jostens.com/apps/store/productBrowse/1827483/Wake-Early-Col-of-Health-and-Sci/2019-Yearbook/20181013041601803124/CATALOG_SHOP/
Senior ads for the WECHS Yearbook will be available for purchase beginning Monday, October 22nd and will close on January 14th. Use this link https://goo.gl/Q4EY49 to purchase. Information is provided. Please send the document to Mrs. Powell if you decide to buy an ad.