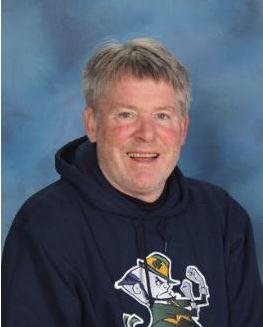 Phone:
Email:
Degrees and Certifications:
Mr.

Kevin Amigh
Mr. Amigh
Hello, my name is Kevin Amigh and I am the physical education teacher here at Forestville Road Elementary School. I have taught at Forestville Road Elementary since the school opened in 2004. Teaching is my second career, and I enjoy it more than anything that I have ever done. I enjoy working with the students and promoting health, fitness, and character skills. I also enjoy my students' because they keep me active and young. Being physically active has been a vital part of my life and my development and I believe it is important for all of us as we strive to be our best. Healthy and active students are better prepared to perform their best in the classroom and beyond.
I attended college at Wake Forest University where I studied Liberal Arts with a major in physical education. At Wake Forest I competed in track & field, indoor track, and cross country for the Demon Deacons. I then attended Appalachian State University receiving a Masters in Exercise Science. I worked in corporate fitness and wellness primarily for IBM and Nortel Corporation. Before I began my teaching career I attended Campbell University, where I received a Masters in Education. I have taught at other schools in Wake County, but Forestville Road Elementary is my home.My family includes my wife and 3 children. My hobbies are running, music, and sports.
My Mission:
I believe students need and want to be active. It is my mission as a physical educator to teach and assist students on the path to life long heath & wellness. The goal of physical education is to instruct students in the activities they can participate in and enjoy for a life time, while also teaching the skills to accomplish these goals. If we can impart these goals in students, then they will understand how to remain active throughout their lives. In the physical education classroom I try to create an atmosphere where students are comfortable to move, explore, and try activities that will lead to healthy choices.
I welcome your input as I strive to meet the physical education needs of all of our students. If you have a specific concern or request or would like to discuss your student with me feel free to call me or email at any time. My email address at school is kamigh@wcpss.net and the phone is 919-266-8487.