Return to Headlines
Hello Dolphins! This is Kristen Faircloth, proud principal at Durant Road Middle School, with your weekly family message.
It is hard to believe we are starting the 2020-2021 school year in just two weeks! We hope you have had a wonderful summer and have enjoyed a little extra time with loved ones. We know starting back to school might be challenging this year, both for families in Transition Plan B and Virtual Academy. This year, more than ever, we will continue to focus on grace and perseverance as a school community. While we don't have all the answers and our world is ever-changing, extending grace is crucial in keeping a positive school culture. As a school community, our families, students, and school staff will persevere through the unknowns. We are in this together and excited to kick off an amazing year full of unique and special experiences. There will be a lot of information shared in the coming weeks. Please continue to read the family messages and stay connected to DRMS. As always, please do not hesitate to reach-out with any questions. We are here to support you.
Facts with Faircloth: Thank you to everyone who attended the Facts with Faircloth virtual event on Monday, July 27, 2020. To continue communication with families, we will hold another virtual Facts with Faircloth on Monday, August 10, 2020 at 5:00 PM to share updated information about the start of the school year including the DRMS Virtual Family Orientation and Student Materials Pick-Up events. The format will be a google meet that will be recorded and can be watched at a later time. A link will be shared to sign up for Facts with Faircloth in the coming days. We hope you find this community engagement session informative.
DRMS Virtual Family Orientation: The start of the 2020-2021 school year will be a new experience for all of us as we begin the year on-line. To help prepare families and students, DRMS Virtual Family Orientations have been scheduled for Wednesday, August 12, 2020 at 9:00 AM and 5:00 PM. Two times have been scheduled for convenience and families only need to attend one session. Please use the following links to RSVP for a grade specific DRMS Virtual Family Orientation on Wednesday, August 12, 2020:
Student Materials Pick-Up: Students and families will be asked to come to a drive-thru pick-up event to get materials needed to learn remotely. These materials include items such as Language Arts supplemental novels, Math and Language Arts workbooks, Science workbooks (8th grade only), Student Handbook, Agenda, DRMS t-shirt (6th grade only), PTA information, etc. It is important to note this is a one day event. Please see the specifics as well as your assigned time and place for the Student Materials Pick-Up event below:
Thursday, August 13, 2020
*9:00 AM-10:00 AM -Bus Loop - All students with last name A-D
*9:00 AM-10:00 AM -Staff Parking Lot - All students with last name E-I
*10:00 AM-11:00 AM -Bus Loop - All students with last name J-M
*10:00 AM-11:00 AM -Staff Parking Lot - All students with last name N-R
*11:00 AM-12:00 PM -Bus Loop - All students with last name S-V
*11:00 AM-12:00 PM -Staff Parking Lot - All students with last name W-Z
Families will be asked to stay in their vehicles at all times. DRMS staff will be directing traffic at both the staff parking lot and bus loop. Families will only go to one location based on assigned area. In order to adhere to social distancing, please arrive at the Student Materials Pick-Up event prepared with a car sign for your DMRS student(s). Examples of the car sign is included as a reference. Make the name is large and legible. The sign should include last name, first name, and grade level for your student. If you have more than one student attending DRMS, please have a sign for each child. If you have a rising 6th grader, please include the size of the t-shirt you are requesting in the bottom right hand corner of your sign.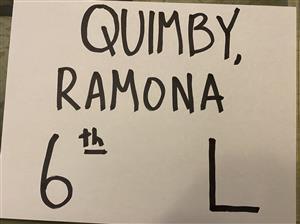 YMCA Scholastic Support Centers: The YMCA of the Triangle has been working diligently, and in collaboration with local school systems, to develop supplemental learning programs that align with educational requirements while also supporting out-of-school time and child care needs of students. We're happy to introduce YMCA Scholastic Support Centers.
YMCA Scholastic Support Centers are a place where your K –8 students can go to participate in their online school or Virtual Academy classes. The program is offered either Monday – Friday 8:30 a.m. – 3:30 p.m. with an extended day option for those who need full-day care, or as a full-day program from 7:30 a.m. - 6 p.m. Hours vary by location.
To learn more or register for YMCA Scholastic Support Centers, visit our website today.
Tdap & Meningococcal Vaccine - 7th Graders!: This past week WCPSS sent out a message stating that state lawmakers have not made any adjustments or exceptions to the immunization and health assessment requirements. It is still required for 7th graders, whether you are face-to-face or in the Virtual Academy, to receive Tdap and Meningococcal vaccines. Most medical providers in Wake County are seeing appointments for health assessments and immunizations. Please take this time to make an appointment with your provider.
Thank you for supporting DRMS,
Kristen Faircloth
Principal