Return to Headlines
Trailblazer Times 8/13/23
Trailblazer Times 8/13/23
Happy Sunday, Trailblazers- we hope you all had a restful and relaxing weekend!
Transportation reminders
In order to welcome and dismiss our students in a safe and orderly manner- we need your help! We received several complaints last week about families not following the transportation guidelines, particularly in carpool. Please check out the BRES guidelines linked HERE (and sent via text on Friday afternoon) and pay special attention to the items that are in bold (and listed below)- as those are the infractions that were occurring most frequently last week-
don't drop students off in front of the school (you must get in the line as this will block the buses)
don't cut over into the line at the cone- if you need to park go to the cone and turn left t park in the bus loop parking lot
pull all the way up to the car in front of you
if turning left at the stop sign onto Chambers- merge immediately into the back of the line. If you are at the back, let them merge
We truly appreciate your patience and support in following these guidelines.
Curriculum Night is Thursday, August 17th
You should have received THIS FLYER last week to learn more about this important opportunity for us to connect and share all of the wonderful teaching and learning that will take place in your child's classroom this year! If you haven't already done so, please take this brief survey (sent via text on Thursday, 8/10) to help us plan and prepare. Hope to see you there!
Bus service (repeated information)
On Tuesday, 8/1, the WCPSS school board reviewed details related to the ongoing bus driver shortage. If your student is assigned to transportation and is not a rider, please go to this LINK to indicate that you will not be accessing bus service. This will provide us with the most up-to-date information for transportation planning. Note: Submitting this form will remove your student from both yellow bus and vendor (cab) transportation service. There is the potential for significant delays in the AM/PM if the board implements A/B double-back routes when traditional schools start. We will keep you informed with any changes as we receive notification.
Volunteer application can now be accessed from home
For this school year, ALL volunteers must RE-REGISTER. This can now be done from home or at school by visiting this link.
PTA minutes
We had our first PTA meeting of the year on Tuesday, 8/9- thank you to all who attended! Please click HERE for the minutes. Please scan the QR code below to join the PTA.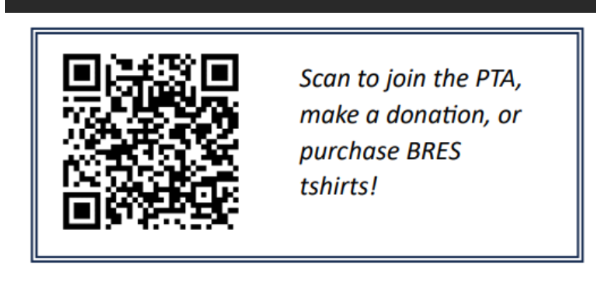 Mark your calendars-
Wednesday, August 16th- Boosterthon registration opens
Thursday, August 17th- Curriculum Night 6:00-7:30
Fall picture day- Thursday, August 31st
Boosterthon fundraiser 8/30-9/8- FUN RUN is Friday 9/8
Friday, September 1st- first quarter interim reports go home
Monday, September 4th- Labor Day- NO SCHOOL
Yours,
Sarah Simmons, Principal
Tiempos de pioneros 8/13/23
Tiempos de pioneros 8/13/23
Feliz domingo, Trailblazers: ¡esperamos que todos hayan tenido un fin de semana tranquilo y relajante!
Recordatorios de transporte
Para dar la bienvenida y despedir a nuestros estudiantes de una manera segura y ordenada, ¡necesitamos su ayuda! Recibimos varias quejas la semana pasada sobre familias que no siguen las pautas de transporte, particularmente en viajes compartidos. Consulte las pautas de BRES vinculadas AQUÍ (y enviado por mensaje de texto el viernes por la tarde) y preste especial atención a los elementos que están en negrita (y se enumeran a continuación), ya que esas son las infracciones que ocurrieron con mayor frecuencia la semana pasada.
tipo de estilo ordenado
:1,
tipo de estilo desordenado
:1}">
no deje a los estudiantes frente a la escuela (debe ponerse en la fila ya que esto bloqueará los autobuses)
no cruce la línea en el cono; si necesita estacionarse, vaya al cono y gire a la izquierda t estacione en el estacionamiento del circuito de autobuses
tire todo el camino hasta el coche delante de usted si gira a la izquierda en la señal de alto en Chambers, incorpórese inmediatamente al final de la línea. Si estás en la parte de atrás, déjalos fusionarse. Realmente apreciamos su paciencia y apoyo para seguir estas pautas. La Noche de Currículo es el jueves 17 de agosto. Deberías haber recibido
ESTE FOLLETO
la semana pasada para obtener más información sobre esta importante oportunidad para que nos conectemos y compartamos toda la maravillosa enseñanza y aprendizaje que tendrá lugar en el salón de clases de su hijo este año. Si aún no lo ha hecho, tome este breve encuesta (enviado por mensaje de texto el jueves 8/10) para ayudarnos a planificar y prepararnos. ¡Espero verte allí! Servicio de autobús (información repetida) El martes 1 de agosto, la junta escolar de WCPSS revisó los detalles relacionados con la escasez continua de conductores de autobuses. Si su estudiante está asignado al transporte y no es un pasajero, vaya a este
ENLACE
para indicar que no accederá al servicio de autobús. Esto nos proporcionará la información más actualizada para la planificación del transporte. Nota:
Enviar este formulario eliminará a su estudiante tanto del servicio de transporte de autobús amarillo como del proveedor (taxi). Existe la posibilidad de que se produzcan retrasos significativos en AM/PM si la junta implementa rutas de doble retorno A/B cuando comienzan las escuelas tradicionales. Lo mantendremos informado con cualquier cambio a medida que recibamos una notificación.
La solicitud de voluntariado ahora se puede acceder desde casa Para este año escolar, TODOS los voluntarios deben VOLVER A REGISTRARSE. Esto ahora se puede hacer desde casa o en la escuela visitando este enlace.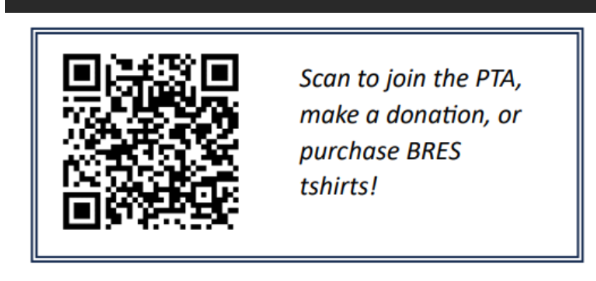 Minutos de la Asociación de Padres y Maestros
Tuvimos nuestra primera reunión de la PTA del año el martes 9 de agosto. ¡Gracias a todos los que asistieron! Por favor
haga clic aquí
por los minutos. Escanee el código QR a continuación para unirse a la PTA.
Marque sus calendarios-
Miércoles 16 de agosto: se abre la inscripción para Boosterthon
Jueves, 17 de agosto- Noche de currículo 6:00-7:30
Día de fotos de otoño: jueves 31 de agosto
Recaudación de fondos Boosterthon 8/30-9/8- FUN RUN es el viernes 9/8
Viernes, 1 de septiembre: los informes provisionales del primer trimestre se envían a casa