Staff members and instructional areas are linked (blue) to their corresponding webpage, if applicable.

Healthful Living Teachers

Bailey, fbailey@wcpss.net

Bennett, wdbennett@wcpss.net

Clemons, jclemons2@wcpss.net

Flowers, rflowers@wcpss.net

Munson, jmunson@wcpss.net

Peterson, fpeterson@wcpss.net
Special Education Teachers
See applicable grade level staff.

Other Teachers
Fox, AIG - wfox@wcpss.net
McKune, ALC - dmckune@wcpss.net
Hartenstein, IF & Testing - thartenstein@wcpss.net
Lopez, Intervention Cdnr & Inv. Math - clopez@wcpss.net

Student Services & Career Development
Betancourt, Speech Therapist, sbetancourt@wcpss.net
Geraci, CDC - dgeraci@wcpss.net
Ramirez, 7th grade - kjramirezz@wcpss.net
Kokenes, Psychologist - lkokenes@wcpss.net
Leon, 6th Grade - aleon@wcpss.net
Rivera, School Nurse - crivera3@wcpss.net
Wishon, 8th Grade - rwishon@wcpss.net
Wall, Social Worker - cwall4@wcpss.net
Choice Teachers

Language AcquisitionOther Staff

Dunn, Custodian - wdunn@wcpss.net

Cooper, Resource Ofcr.- Don.Cooper@wakegov.com

Saavedra-Serrano, Custodian - lsaavedraserrano@wcpss.net

Vandewalker, Cafeteria Mgr - dvandewalker@wcpss.net

Office Staff
Cooper, Lead Secretary - acooper@wcpss.net
Diaz, PowerSchool Data Mgr. - odiaz@wcpss.net
Garwolds, 50% Receptionist & Guidance Tech - kgarwolds@wcpss.net
Gorham, Bookkeeper - egorham@wcpss.net
Horton, 50% Receptionist - mhorton@wcpss.net
Telephone Directory

Unless a full phone number is given, dial 919.870.4050. When prompted, enter the extension.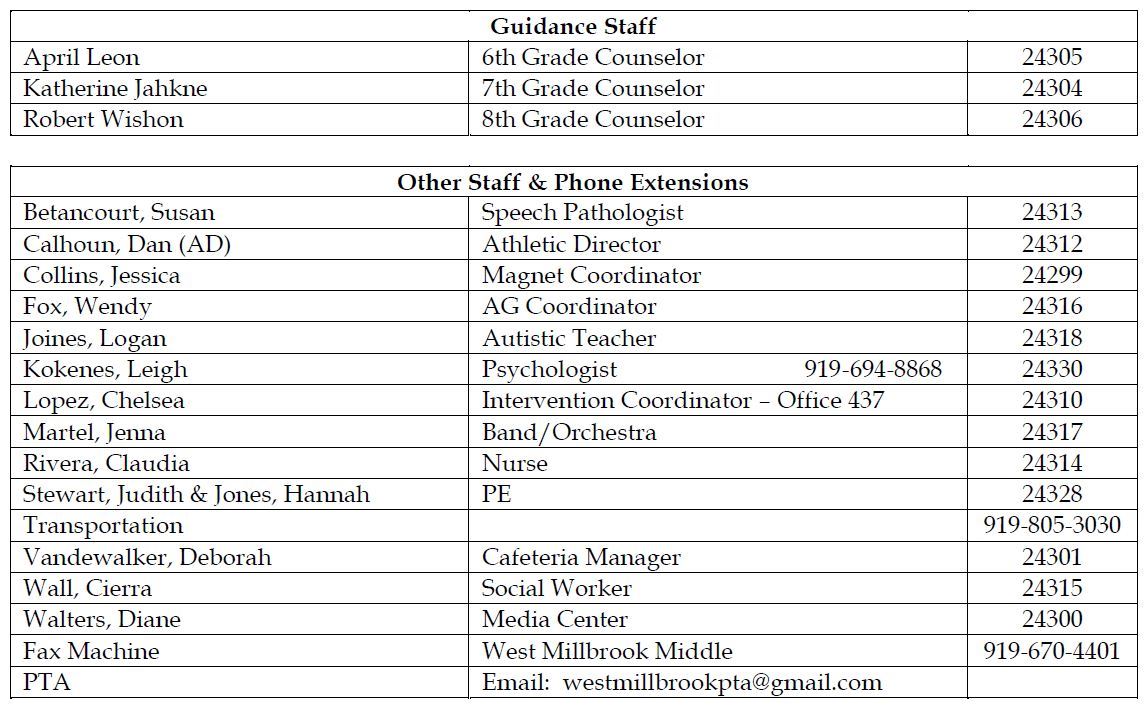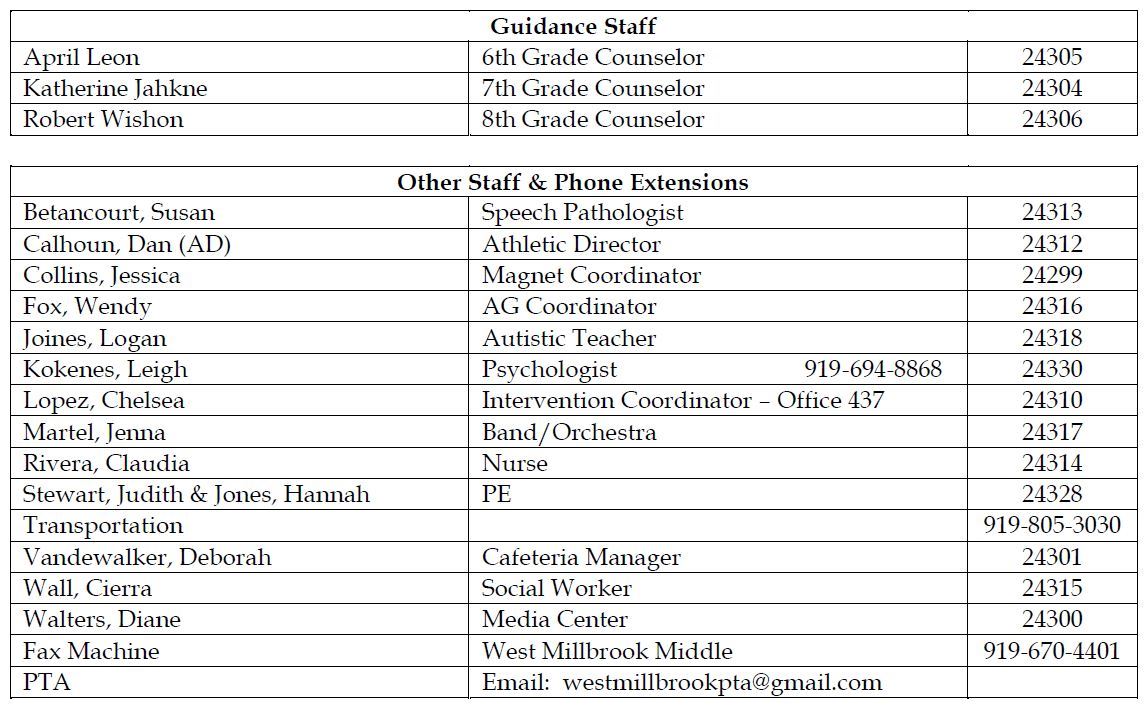 Last Modified on Tuesday at 2:53 PM