Multi-Tiered Systems of Support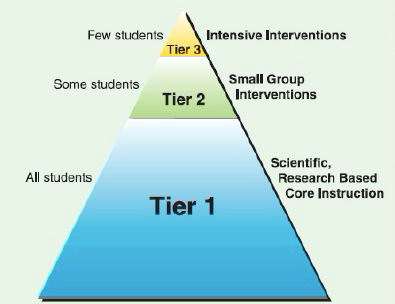 Special Education

Special education

services

(an IEP) might be considered for students who continue to struggle and show a slow

rate of response to Tier 3 interventions and strategies, as this might indicate the presence of an educational

disability. However, students who are referred for consideration of special education are required to meet

additional criteria in order to qualify for this level of service. Parents sometimes request for their student to be

"tested" for suspected learning or behavioral disabilities. The school will always formally respond to these

requests by scheduling a referral meeting with the Individualized Education Program (IEP) team. However, a

referral for special education testing requires the team to determine the appropriateness of the request in

consideration of previous intervention support, present performance, and learning history. It is our experience

that sometimes parent requests for testing are made in an effort to solicit help for a struggling student. All

parents are strongly encouraged to first communicate their concerns to their child'

s teacher and to discuss the

appropriateness of a referral for additional support at Tier 2 or 3 of the MTSS process.