Return to Headlines
Bulldog Bulletin for the Week of May 31st
5/31 - Holiday-No School
6/1 - 3rd- 5th Grade Math EOG Make Ups
6/2 - Read to Achieve - for select 3rd Grade
6/3 - Read to Achieve Makeup
6/7 - Virtual Art Show
6/9 - SIP Quarterly Review 7:45-8:45
5th Grade Moving Up Ceremony (5;30-7:00)
6/10 - Last Day of School
From the PTA
Hello!
Please see the agenda for our last PTA meeting for the 2020-2021 school year. Can you believe it?!
If you are on this email you are on the agenda to speak. We will go back to our original meet link....
Join with Google Meet
Real-time meetings by Google. Using your browser, share your video, desktop, and presentations with teammates and customers.

meet.google.com
Before and Afterschool for 21-22 School Year
Please complete this form if you are interested in Before and After School Care for next year. They have not yet shared the rates for next year. They will have a registration fee of $15.00, but we are not collecting that money yet.
https://docs.google.com/forms/d/1wwA5yH9GXIfRtGB7a-7xa93Kpz6lsTA1Ud7U42XKwYs/edit
To assist students and staff that are leaving WCPSS, a "Before You Leave" web page has been created to assist with technology-related items that students and staff will find useful.
School Tours
If you are new to Briarcliff and have not been in the building please join us this summer for a school tour. Students are welcome! Sign up below.
https://www.signupgenius.com/go/70a054da9a87-briarcliff
New Face Covering Guidelines- Effective June 2nd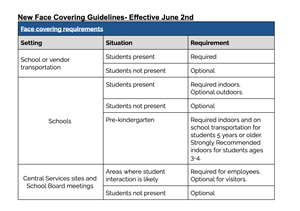 Kirk of Kildaire Summer Program
Highlights:
Free breakfast and lunch

Classes for all ages – from infants to adults

For children, classes include reading, math, games, art, including a soccer coach!

For adults, there are English classes

Runs from June 22 to Aug 12 on Tuesdays, Wednesdays, and Thursdays.

Vaccination are required for those eligible.
Sign up at: https://docs.google.com/forms/d/e/1FAIpQLSfrsJWbq6eEmalasaNJZE4Jzbb-UjIlWfcYRjryGQ8Wxn3joA/viewform?usp=pp_url