Return to Headlines
Bulldog Bulletin for the week of 3/15/21
Upcoming Important Dates
3/14 - Daylight Savings Time Change
3/16 - 5th Grade Parent Night
3/24- Asynchronous Day PreK-5th
3/25- End of 3rd Quarter
3/29- 4/6- Spring Break
4/14- Asynchronous Day PreK-5th
4/28- Asynchronous Day PreK-5th
4th and 5th Grade Plan B Students
All 4th and 5th graders signed up for Plan B will return to In-Person learning on Monday, March 15th. Students signed up in VA will need to remain in VA for the remainder of the year. We do not currently have seats available to make moves from VA to In-person.
In-Person and VA
Students will not be able to move from VA to In-Person at this time due to the health guidelines that need to be maintained at each grade level. We do have a waitlist, but changes only occur as students leave. Moving from In-Person to VA depends on the size of our VA classes.
VA Families Please Mark Your Calendars
We will be holding a family session for parents of students in the Virtual Academy Classroom. This session will focus on Healthy Work Habits for Virtual Learners. This session will be offered on the following dates and times:
Tuesday, April 6 from 12:00-12:30

Thursday, April 8th from 6:30-7:00
We will send out the link for the family sessions as we get closer to April.
Screenagers!
Please feel free to register to watch this documentary that is being sponsored by the WCMS PTA! Pre-registration is required to watch the documentary from the comfort of your own home. The documentary will be live starting this Monday - Tuesday, 3/16.
Register here: https://www.screenagersevent.com/screenagers-west-cary-middle-school-pta
Don't forget to join our WCMS counselors for Q&A on Monday, 3/15 @ 5:30 p.m. to discuss topics from the movie. Join the Google meet here: https://meet.google.com/cdm-evus-jjc
Screenagers Synopsis:
"Are you watching kids scroll through life, with their rapid-fire thumbs and a six-second attention span? Physician and filmmaker Delaney Ruston saw that with her own kids and learned that the average kid spends 6.5 hours a day looking at screens. She wondered about the impact of all this time and about the friction occurring in homes and schools around negotiating screen time—friction she knew all too well.
In SCREENAGERS, as with her award-winning documentaries on mental health, Delaney takes a deeply personal approach as she probes into the vulnerable corners of family life, including her own, to explore struggles over social media, video games, academics and internet addiction. Through poignant, and unexpectedly funny stories, along with surprising insights from authors, psychologists, and brain scientists, SCREENAGERS reveals how tech time impacts kids' development and offers solutions on how adults can empower kids to best navigate the digital world and find balance."
Trailer and other information available here: https://www.screenagersmovie.com/trailer
Students not Feeling well
If a student shares that they are not feeling well and are experiencing symptoms of Covid 19 (see below) they will be taken to the Care Center and Parents will be called to pick up their student.
Symptoms of covid 19 include: fever (100.4) or higher or chills, new cough, difficulty breathing or shortness of breath, loss of taste or smell, headache, fatigue, muscle aches or body aches, sore throat, congestion, or runny nose, nausea or vomiting, or diarrhea
Return to School: Students may return to school when they meet the following criteria listed below. Here is the link to the Back to School Information for Families and the Return to School Guide that contains additional information.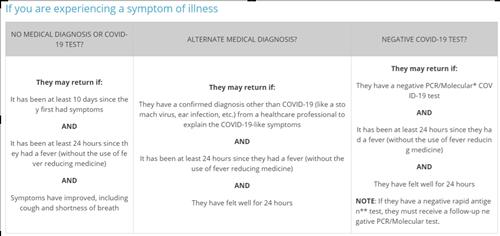 Additional Information regarding student illness:
If a student is experiencing any type of illness they must stay home or be sent home to quarantine for 14 days unless they receive an alternate diagnosis or a negative PCP test.

Household members must also stay home.

Any WCPSS student or employee living in the same house with a person experiencing

any symptom of illness

must quarantine for 14 days.

The household member's 14-day quarantine begins at the end of the tenth day of isolation

of the person experiencing a symptom of illness. This means the household member must be out of school/work for 24 days. The household member may return sooner than 24 days if the person experiencing a symptom of illness receives confirmation of an alternate diagnosis or a negative PCR/Molecular* test.

Every family needs to have a plan to pick up their student if they are called. We know many families are working, but coming to get your child is an

immediate requirement.

Any student who is quarantined will be offered an online option if they are healthy enough to participate.
The School District will notify parents through a dashboard if a positive case of Covid 19 has been reported in the school. This information can be found on the district website using the following link WCPSS COVID Metrics website.