Return to Headlines
Bulldog Bulletin for the Week of 3/1/21
Upcoming Important Dates
3/2 -PTA Meeting at 7:00 pm
3/3 -Asynchronous Day PreK-5th
3/9 -School Pictures for in-person learning
3/12 -School Pictures for Virtual Academy Students and Remote Learning Students in Cohorts 1 and 3
3/12 - Workday - No school
3/24- Asynchronous Day PreK-5th
3/25-End of 3rd Quarter
3/29-4/6- Spring Break
4/14-Asynchronous Day PreK-5th
4/28- Asynchronous Day PreK-5th
In-Person students-Complete the following forms
As students return to school the following forms must be completed prior to returning to the building. Even if you completed the form/s in the Fall these must be completed and turned in on the first day back:
ALL Families must sign and complete:

Student Accountability Form

Bus Riders Must complete:

Attestation Form
Students not Feeling well
If a student shares that they are not feeling well and are experiencing symptoms of Covid 19 (see below) they will be taken to the Care Center and Parents will be called to pick up their student.
Symptoms of covid 19 include: fever (100.4) or higher or chills, new cough, difficulty breathing or shortness of breath, loss of taste or smell, headache, fatigue, muscle aches or body aches, sore throat, congestion, or runny nose, nausea or vomiting, or diarrhea
Return to School: Students may return to school when they meet the following criteria listed below. Here is the link to the Back to School Information for Families and the Return to School Guide that contains additional information.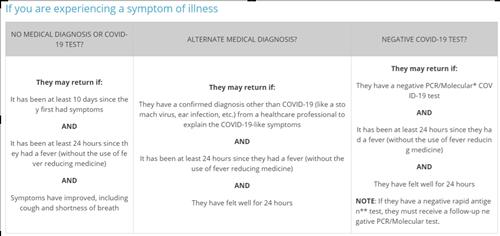 Additional Information regarding student illness:
If a student is experiencing any type of illness they must stay home or be sent home to quarantine for 10 days unless they receive an alternate diagnosis or a negative PCP test.

Household members must also stay home.

Any WCPSS student or employee living in the same house with a person experiencing

any symptom of illness

must quarantine for 10 days.

The household member's 14-day quarantine begins at the end of the tenth day of isolation

of the person experiencing a symptom of illness. This means the household member must be out of school/work for 24 days. The household member may return sooner than 24 days if the person experiencing a symptom of illness receives confirmation of an alternate diagnosis or a negative PCR/Molecular* test.

Every family needs to have a plan to pick up their student if they are called. We know many families are working, but coming to get your child is an

immediate requirement.

Any student who is quarantined will be offered an online option if they are healthy enough to participate.

The School District will notify parents through a dashboard if a positive case of Covid 19 has been reported in the school. This information can be found on the district website using the following link

WCPSS COVID Metrics website

.
From the counselors
Please take a moment to review the February/March Newsletter from our school Counselors. There is some great information inside!
https://docs.google.com/document/d/1FO8M_y-k7Fv9Uc0IsB_1guZeX30PJ5STls74sWogEWQ/edit?usp=sharing
From the PTA
Linked here is the agenda for our PTA meeting on Tuesday, March 2nd. The PTA meeting will start at 7:00. The BES staff is grateful for the Briarcliff PTA and all they have done to support students and staff this year. Thank you for your generosity and kindness! We look forward to having all of our families attend. The google link is listed below.
Join with Google Meet
Real-time meetings by Google. Using your browser, share your video, desktop, and presentations with teammates and customers.

meet.google.com
Picture Day Information
ONLINE PAYMENT:
Parents, this is the link that allows you to buy pictures online. We encourage you to purchase this way because it is easier for all parties, but it has the added benefit of being contactless as well. https://strawbridge.fotomerchanthv.com/clients/briarcliff-elementary/fall-pictures-1-13-2021-2/optIn
FOR CASH PAYMENT
Virtual Academy Students

: Strawbridge will provide envelopes the day of picture day if you prefer to pay with cash.

In-Person Students:

Envelopes will be sent home with students prior to picture day. Teachers will have envelopes beginning Feb. 28th and will distribute sometime before picture day on March 9th.
Please NOTE:
There will be no classroom pictures this year. Only individuals will be taken to ensure we are following all social distance protocols.
For IN-PERSON students,​ picture day is TUESDAY, MARCH 9. This includes all our in-person students from PreK-3rd grade and cohort 2 for 4th and 5th grade students.
If you have a student who is in person but is in 4th or 5th grade in cohorts 1 or 3, they will need to sign up for the Virtual Academy picture day. Information for how to do that follows.
VIRTUAL ACADEMY Students and 4th and 5th graders in cohorts 1 or 3:
Picture day is MARCH 12 - which is a teacher workday.

Students need to sign up using the following signup genius for a five-minute slot -

https://www.signupgenius.com/go/8050c4baeae2fa3fe3-100094

Parents will drop their student off via the CARPOOL LOOP.

DO NOT LEAVE CAMPUS WITHOUT YOUR STUDENT!

After your student has exited the car, you will need to drive out of the carpool entrance, and re-enter through the one-way loop by the office. Your student will be guided through the building by staff members and will exit the building through the front door. You will meet your student there. In this way, we will not clog up the line waiting for students.
Again, DO NOT LEAVE YOUR STUDENT.