Return to Headlines
End of March - 3.24.23 Memo
Lost & Found
We have had our lost and found out for two weeks now and there are still many items that have not found their owner!
The lost and found will be moved to outside the front doors, under the portico at Lead Mine on Tuesday evening. Should your Leopard be missing something, please feel free to stop by Lead MIne to retrieve any lost items! The items will be donated on Thursday, March 30th.
Join Us!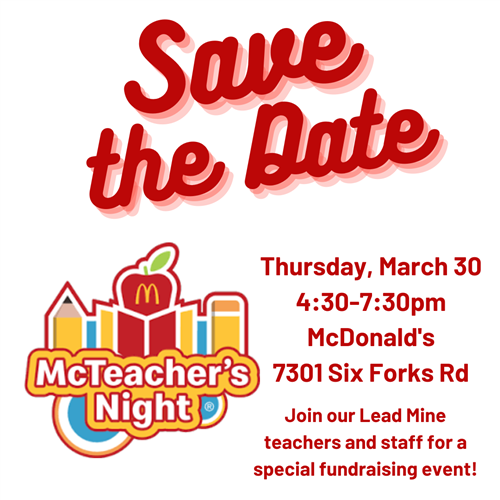 No School March 31st - April 9th
Our Leopards will be on a well-deserved Spring Break from Friday, March 31st through Sunday, April 9th. They will all return to campus for the final nine weeks of the school year on Monday, April 10th!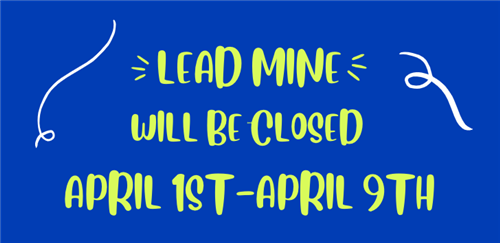 The building will be closed throughout the Spring Break week.
2023 Science Gallery
Our students will have the opportunity to engage in a science project to be displayed and shared with the school and families on April 20th! Please click here to learn more and to register your Leopard to participate in this year's science gallery!
2022-2023 Year Books
5th Grade Leopard Families can learn more about ordering yearbook sentiment pages by clicking here. The sentiment deadline is April 28th!
For information about ordering your 2022-2023 yearbook, go to treering.com and enter the LMES school code: 1015043028522617
Volunteer Opportunities
Please click here to learn more about how you can support our 5th graders by creating their legacy project the week of 4/10/23!
Carpool
Please click here to revisit the Lead Mine carpool drop-off and pick-up procedures. Please share this information with all those who help with drop off and pick up - family, friends, and neighbors. We have recently noticed several leopards dropping off at the top of the drive and want to remind everyone that students should wait until their car is curbside to exit the vehicle. Thank you in advance for helping to keep our Leopards safe!
Faculty Member of the Month: March Nominations Open
Click here to nominate a Lead Mine Elementary staff member for Faculty Member of the Month!