Return to Headlines
4-29-20 Principal Message
Good Afternoon Harris Creek Family,
As we finish up week 7 of being away from school, I want you to know that we are missing all of you and so proud of how you are helping to support your child(ren) to access Remote Learning to continue to help midigate learning loss and prepare them for the next grade. This isn't easy for any of us, so know that we are in this together. I am in the same boat with working full time and juggling trying to prepare my child for Kindergarten. Give yourself some grace because not every day will be perfect, actually chances are that no day will be perfect. We do the best we can.
I'm sure many of you have heard by now that we will not be going back to the building this school year and will not be giving out grades for the final quarter but will be providing feedback to you on your child's progress. Please don't let this turn you and your child away from Remote Learning. The teachers are still teaching important standards that your child will need to be ready for the next grade level and to minimize potential learning loss from being out of school. Naturally, learning loss happens over long breaks from school, which we don't usually have to worry about since we are a Year Round school with 3-4 week breaks. Our children are not used to being out of school for such a long period of time. If they are struggling to complete all assignments, talk with your child's teacher to let him/her know and come up with a plan. All teachers have office hours throughout the day which is a time for you to reach out to him/her to ask questions. If you can't reach out during that time block, send an email or a message through the class communication tool such as Remind or Class Dojo. They are answering and willing to help you, just ask.
We do not yet know anything about the timeline for the start of next school year. If/when a decision is made, I will be sure to let you know. We are planning as if school will be ready to start in July so we will be ready if we do go back in July.
Please read the announcements below:
Teacher Appreciation Week: May 4-May 8
Although we are under different circumstances, we still want to celebrate Teacher Appreciation Week for our Teachers and Instructional Assistants that continue to go above and beyond for our children every day.
The Harris Creek PTA would like to help you celebrate our teachers! Please join us as we salute our teachers with a Virtual Teacher Appreciation Spirit Week! To kick everything off we have organized an Art Drop on May 4th from 7:30am-9:00am and 5:30pm-7:00pm in the carpool loop so you can drop off homemade art, thank you cards or other small gifts if you wish. Teachers will pick these care packages up on Friday May 8th as they come to the school for a drive-thru lunch of Papa Murphy's pizza!
Throughout the week we encourage parents to send video messages via classroom apps from their children to their teachers and participate in a virtual spirit week.
For parents wishing to send gift cards, we encourage them to drop them off during the art drop on Monday or to send e-gift cards to their teacher's email accounts.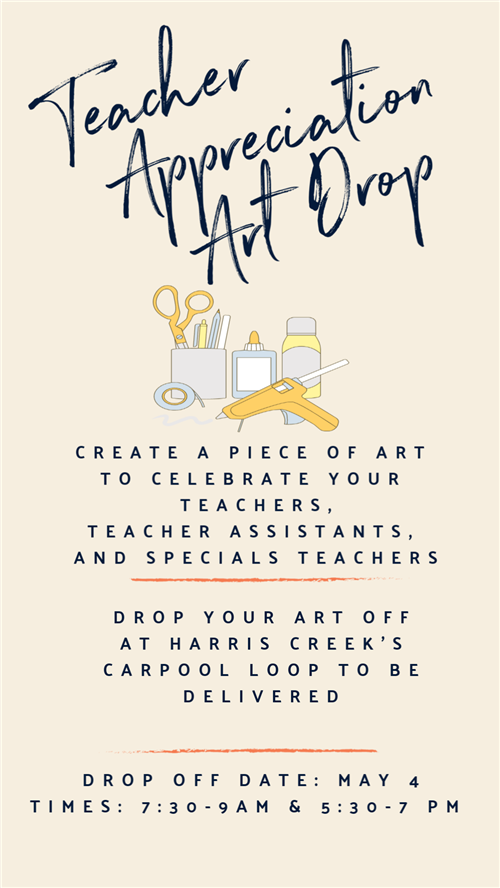 Coffee Talk:
Join Mrs. Sanchez in a virtual Coffee Talk through Zoom on Wednesday, May 6 at 7:00pm to connect, ask questions, talk with other parents, hear from others on what is and what is not working.
Join Zoom Meeting
https://us02web.zoom.us/j/81611075095?pwd=SjBVVkVHNk9pdFQ0NU1KSFNTQXIzdz09
Meeting ID: 816 1107 5095
Password: 5MrbF2
Food Resources:
Please read the information in the link below about accessing Food Resources, donating resources, applying for Free/Reduced Lunch, and applying for P-EBT benefits, if applicable.
https://www.wcpss.net/domain/16591
Parent Resources during COVID 19 Pandemic:
WCPSS has created and continues to update a site on supporting families during the school closures and COVID 19 Pandemic. Please check the site out through this link.
https://www.wcpss.net/Page/42068
As always, please reach out if you have any questions or concerns. Thank you for continuing to choose to be part of the Harris Creek Family!
Sincerely,
Tracie Sanchez, Principal