Return to Headlines
3-3-20 Harris Creek Message
Good Evening Harris Creek Family,
Please take a few minutes to read over the annoucements below to stay up to date on events and information happening at Harris Creek.
Glass Water bottles are not allowed at school. These are falling on the cafeteria floor and shattering, which is very dangerous. The hard plastic and metal water bottles are the best option.
Read Across America Week- We are celebrating this week!
Today's Book & Theme: Marisol Doesn't Match- Mix Match Day
Tuesday's Book & Theme: Hair Love- Love Your Hair Day- Wear your hair any way you want to express yourself!
Wednesday's Book & Theme: Mae Among The Stars- Career Day- Dress to represent your future career!
Thursday's Book & Theme: Pele' King of Soccer- Sports Day- Represent your favorite sports team!
Friday- Favorite Book Character Day- Dress up like your favorite book character!
Carpool Pizza Friday
Papa Murphy's will be here this Friday, March 6 selling pizza during PM carpool. Purchase a ready to bake large pizza for $10. Papa Murphy's will donate money back to the school for each pizza sold.
Family Fun Night 3/13/20
Come join us for a night of FREE Family Fun on Friday, March 13 from 6:30pm to 8:30pm. See more about it and sign up here: 3-13-20 Family Fun Night Sign Up
Statewide Tornado Drill
We will be participating in the Statewide Tornado Drill on 3/4/20. We encourage you to create or review a plan with your children as well to locate your safe location in your home as well.
Track 1 Tracks Out after Friday, March 6.
Track 2 Returns on Tuesday, March 10.
Teacher Workday 3/9/20
No school for students on Monday, March 9 for our last Teacher Workday of the school year.
T3 & T4 Spring Individual and Group Pictures- 3/12/20
Yearbook Picture Submissions
If you have some great photos you've taken throughout the school year that you would like to have considered for the yearbook, please send them to hcesyearbook1@gmail.com. Please include who is in the picture, the grade level and track.
Athletic Club- Kindergarten- 5th Grade
This year Coach Blischok will be heading up the HCES PTA Sponsored Athletic Club and will focus on Track & Field sports associated with the Summer Olympics. Tracks 2 & 3 dates will be: 4/1/20, 4/8/20, 4/15/20, and 4/22/20. Tracks 1 & 4 dates will be: 4/29/20, 5/6/20, 5/13/20, and 5/20/20. Time: 3:45pm-5:00pm. A flyer will come home within the next week for sign information. If you are able to volunteer to help, please email AthleticClub@harriscreekpta.com. Once we secure volunteers, we will be able to determine how many students we can accept.
School Toolbox
For the 2020-2021 School Year, the PTA will be partnering with School Toolbox so parents can go online, order their children's school supplies, and have them shipped directly to the school. You can eliminate a trip to Walmart or Target to purchase the supplies and do it from the comfort of your own home. Be on the look out in the near future for more information.
Have you joined the PTA yet?
You can do this for only $6.00, which goes back in to support your child's school. Sign up at Family Fun Night on Friday, March 13, 2020.
Eagle Fun Fest Save The Date- May 1 from 5pm-8pm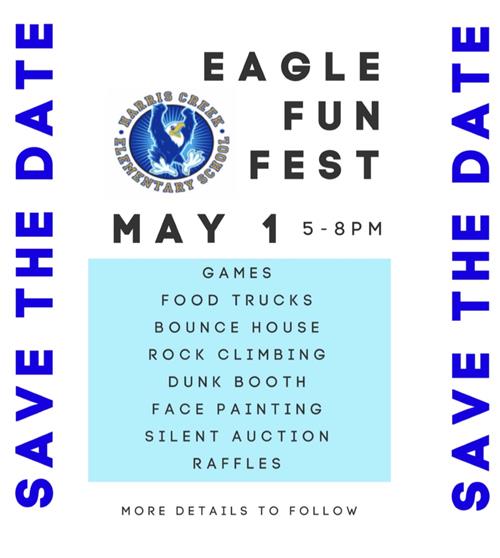 Have a wonderful evening,
Mrs. Sanchez