Return to Headlines
12-3-18 Message From Mrs. Sanchez
Family Heritage Night Thursday 12-6-18 5:30pm-7:30pm
Come join the Harris Creek Family to build community through sharing and learning of others cultures and traditions. As a school, we are celebrating the diversity of our school community.
Variety of Food Trucks in Bus Loop

Family displays throughout the hallway

Variety of cultural dances and performances on stage

Book Fair in Media Center
See flyer here: Family Heritage Night Flyer
5th Grade Parents Middle School Night
Thank you to all of the 5th grade parents that attended our Middle School Night. If you were not able to attend, you can see the information shared on our website under "Parents" section. Go to "Middle School Parent Information." Link is here: https://www.wcpss.net/domain/15075
Track 1 Tracks Out after school Wednesday, December 5.
Track 2 Returns on Thursday, December 6.
City BBQ School Spirit Day- Tuesday, December 11
Harris Creek is partnering with City BBQ, 9424 Falls of Neuse Rd, all day on Tuesday, December 11. For every order where this flyer is scanned, they will give 25% back to the school. Share with your friends, family, and neighbors!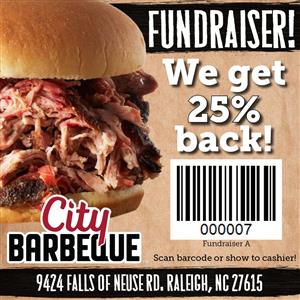 Early Release 12/21/18 at 1:15pm
Winter Break 12/24/18-1/1/19. School starts back for year round on 1/2/19 for Tracks 1, 2, and 3.
Parent Academic Team Nights
Tracks 1 & 3- Tuesday, January 22 5:00pm-7:15pm
Tracks 2 & 4- Tuesday, January 29 5:00pm-7:15pm
Mark your calendar for the next round of Parent Academic Team Nights. These nights are designed for parents to partner with teachers to work together to build respectful relationships, collaborate on student progress, and create student learning goals. Parents will work together to learn strategies and materials to help your children attain their learning goals. Parents are given opportunities to practice and apply the skills in a safe environment. Parents will be provided all materials to implement these strategies at home. We will partner with Raleigh Parks and Rec to provide free childcare. We will also work with WCPSS Translation and Interpretation Services to provide translators for parents that speak other languages. This is for all parents, whether you attended the first round or not.
You will attend a full session for each child. Session 1 is from 5:00pm-6:00pm. Session 2 is from 6:15pm-7:15pm.
Please complete this form so we can accurately plan for child care and translation needs.
Tracks 1 & 3: Tracks 1 & 3 Parent Academic Night January 22
Tracks 2 & 4: Tracks 2 & 4 Parent Academic Team Night January 29
Possible Inclement Weather
Be aware that we may have inclement weather coming up this weekend and early next week. Be sure to check the local news and WCPSS website for updates on school delays and closings.