Return to Headlines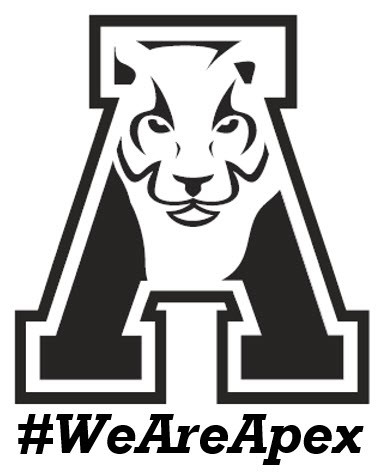 #WeAreApex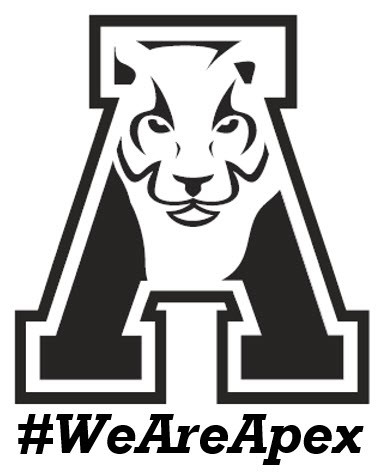 Dear Cougar Family,
Please take note of the following announcements for this week.
PTA INFO
Teacher Appreciation is this week!

Thank you to everyone who sent in items from the signup genius and Amazon! We are asking students to write

thank you letters to teachers and bring them in on Thursday, May 9th

. Help us show AMS staff how much they are appreciated!
May Madness is Friday!!

We are looking forward to a fun night. Registration for dodgeball and food pre-orders have closed but you will be able to purchase raffle tickets online through Tuesday. Please see our Facebook page if you would like to see pictures of the baskets, we have some really good ones this year!!

We will have a basket preview before school on Thursday and Friday from 7:30-8:30 am!
https://www.apexmiddleschoolpta.com/store/p24/Raffle_Tickets_-_QTY.__25.html
The Nomination Committee is recommending the following slate of nominations for the 2019/2020 school year.

We will be voting the new board in at our final PTA meeting of the year on Friday, May 24th at 9:30 am

. We will also be hosting a volunteer breakfast at that time. We hope you will join us.

President: Cheryl Bryne

Fundraising - Lindsay Tremelling

Treasurer - Sherri Stecher

Secretary- Nancy Bradham

Programs - Carla Zegerman
SPRING TESTING INFORMATION
Parents:

We are looking for some donations for unused ear-buds to use for end-of-year activities with students who may not have their own. They don't have to be high-tech or fancy! Please send any new earbud donations to the front office. Thank you!
Testing season is right around the corner. Just a few reminders:
Please be mindful when scheduling appointments or other obligations that may make your child absent from end-of-year testing. Know that we have other engaging school-wide activities on the testing make-up days such as Field Day, and students will not want to miss those.

We need 100 school volunteers during testing (there are some afternoon slots available!) Please

sign up to volunteer here

, and we look forward to seeing you!

Also, know that rules about cell phones and electronic/activity trackers during testing have become more strict. If a student is caught or observed with a cell phone during a testing session, he/she is likely to be dismissed from the testing session and will have to re-take a different form of the test. That is not a risk worth taking. We appreciate your help with this as we try to encourage students to be responsible with their technology.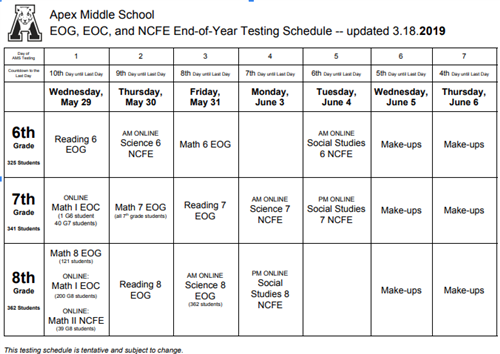 BAMCAT NEWS
We are excited to announce that on May 7th from 3:30-4:15 pm

we are hosting a guest speaker, costume designer Kahei Shum, open to any Apex Middle student. She will do a brief presentation followed by a Q&A. This is a great opportunity for any student interested in theater or costume design.

Spirit Night at Fresh Local Ice Cream

located in downtown Apex on

May 8th from 5-9 pm

. Enjoy a treat while supporting BAMCAT! No need to mention a code or our school.

Auditions for the variety show are May 22nd after school

in the auditorium. Mrs. Schmitt will have a sign-up sheet posted outside of the chorus room. The show will be on June 4th at 7 pm.
Sincerely,
Monica Yllanes, Principal
WHAT'S HAPPENING AT THE PEAK:
May 6, 2019
Softball at Apex Friendship MS, 4:00 pm
May 10, 2019
May Madness, 4:30 - 9:00 pm
May 16, 2019
Chorus Concert, 7:00 pm, Auditorium
May 20, 2019
6th Grade Band Concert, 7:00 pm, Auditorium
May 21, 2019
7th/8th Grades Band Concert, Auditorium
May 24, 2019
PTA Meeting & Volunteer Breakfast, 9:30 am, Media Center
May 29 - June 6, 2019
May 31, 2019
8th Grade Dance, 7:00 - 9:00 pm, Cafeteria
June 4, 2019
Variety Show, 7:00 pm. Auditorium
June 10, 2019
8th Grade Moving Up Ceremony, 9:00 am, Gym -

limited seating, no live streaming
June 11, 2019