Return to Headlines
Hello, Dolphins! This is Kristen Faircloth, proud principal at Durant Road Middle School, with your May 21, 2023 Family Message.
We hope you had a wonderful weekend relaxing and spending time outdoors. It is hard to believe we only have 6 more weeks of the 2021-22 school year and only 4 weeks until EOGs/EOCs begin. Please continue to remind your students to work hard, complete their assignments, and always give their best. At DRMS, we are committed to providing rigorous instruction and supporting each student making a year of growth.
Please take a moment to read through the Family Message below, as well as the grade level newsletters, and do not hesitate to contact us if there is any way we can support you.
Quarter 4 Important Dates:
May 29 - Memorial Day - holiday for students and staff/no school

June 2 - 8th Grade Dance - 4:00 PM-5:30 PM

June 5 - Student Clubs

June 5-9 - School Spirit Week

June 14 - EOG/EOC Testing Begins

June 14 - 6 Grade ELA EOG and 8 Grade ELA EOG

June 15 - 6 Grade Math EOG and 8 Grade Math EOG/EOC

June 16 - 8 Grade Science EOG and Make-Ups begin

June 20 - 7 Grade ELA EOG and Make-Ups

June 21 - 7 Grade Math EOG and Make-Ups

June 19 - Teacher Workday - no school for students

June 26 - EOG/EOC Incentive Celebrations - for eligible students

June 27 - 8th Grade Fun Day

June 28 - Last Day of School

June 29-30 - Remediation and Retest - for eligible students
Congratulations to the 8th-Grade Band and Chorus: On Saturday, May 20, our 8th grade Advanced Band and Bella Voce Advanced Chorus performed and competed at the Carowinds Music in the Parks Festival. Schools from NC, SC, and Georgia were part of the competing groups.
Our Bella Voce Advanced Chorus placed 2nd in the middle school chorus division! Our Advanced Band placed 3rd in the middle school band division! Also, Danielle de Munk received the most outstanding vocal soloist award for the entire competition!
Huge congratulations to our performers and our directors, Mr. Durham and Ms. Moore, for all their work preparing our students for the competition. Thank you to several parent volunteers who served as chaperones for the event. We are so proud of everyone and an excellent day for DRMS!
Dance Concert: The DRMS Dance Concert will take place on Thursday, May 25, 2023 at 7:00 PM and the doors will open to friends, family, staff, and spectators at 6:30 PM. This event is free to all and does not require anything for entry. There will be 5 dances total and the concert should last 30-45 minutes. Students have been working diligently to learn and practice these dances. We hope you can come out and support our dance students. Check out the flier!
DRMS Athletics Updates:
ATHLETICS UNIFORMS:
All athletic uniforms should be washed and returned to coaches this week starting Monday, May 22, 2023.
ATHLETICS BOOSTER CLUB:
If you are a parent of a student athlete in 6th or 7th grade and interested in being more involved with the athletic program at Durant Road Middle School, please reach out to our athletic director, Mr. Esposito (pesposito@wcpss.net). We are currently looking for more parents to be involved with our athletic program to help form us as one of the top middle school athletic programs in Wake County!
CONFERENCE CHAMPIONSHIP:
As we end the 2022-2023 school year, we would like to congratulate our athletic teams who were fortunate enough to win a Wake County Conference Championship. Congratulations on an awesome season!!! The teams are listed below:
Cheerleading
Boys Soccer
Softball
Reproduction and Health Safety: 7th and 8th grader students will begin the Reproductive Health Unit on June 5, 6, and 7th in Health class for Ms. Hayward's classes. Students received an informational letter last week. Parents who would like to opt their child out of the RHS unit need to email or write a note to their child's Healthful Living Teacher. If the teacher does not receive an opt-out letter, the student will be included in the lessons.
Here is the link to the letter that was sent home with students: https://docs.google.com/document/d/1qpqhhFkP8wsBjUOiDza612G0JeYeDuyT/edit?usp=sharing&ouid=116771712838157565409&rtpof=true&sd=true
Attention 7th Grade Families: Per NC Senate Bill 279, all WCPSS students in grades 7-9 will participate in a lesson on Human Trafficking Prevention, Safety, and Awareness, presented by members of the School Counseling and Student Services staff during one Healthful Living class period, as part of the unit of study. A parent letter will be sent home with more information and the district will honor passive consent regarding opting students out of this lesson. The lessons will take place during the month of May. Thank you! ~ Mrs. Warren, 7th Grade School Counselor.
PowerSchool Parent Portal: As of May 1, 2023, all Durant Road Middle School students whose parent/guardian has a current email address now have PowerSchool Parent Portal access set up. Emails have been sent out with user ID and temporary passwords. If you have any questions or trouble with your login, please contact the DRMS Data Manager, Karen Bograd, at kbograd@wcpss.net. Make sure to check your email spam files for the email if you do not see it in your regular folder.
EOG/EOC State Tests: Durant Road Middle School is committed to providing all students with an excellent education. At the end of the school year, your child will participate in the regular administration of the North Carolina End-of-Grade (EOG) tests. Students who score a Level 3 or higher on these assessments are considered proficient. Students who do not score a Level 3 or higher on the regular administration and have passed the course/subject have the option to participate in a Remediation and Readministration opportunity. Should your child meet the criteria for this opportunity and you choose for your child to participate, the Remediation and Readministration will take place on Thursday, June 29 and Friday, June 30. Transportation will be provided for those students who participate. Breakfast and lunch will also be available for all students. At this time, we are providing families with information about this opportunity. After students complete their EOGs, we will determine which students are eligible and those families will receive an invitation for the program.
Yearbook: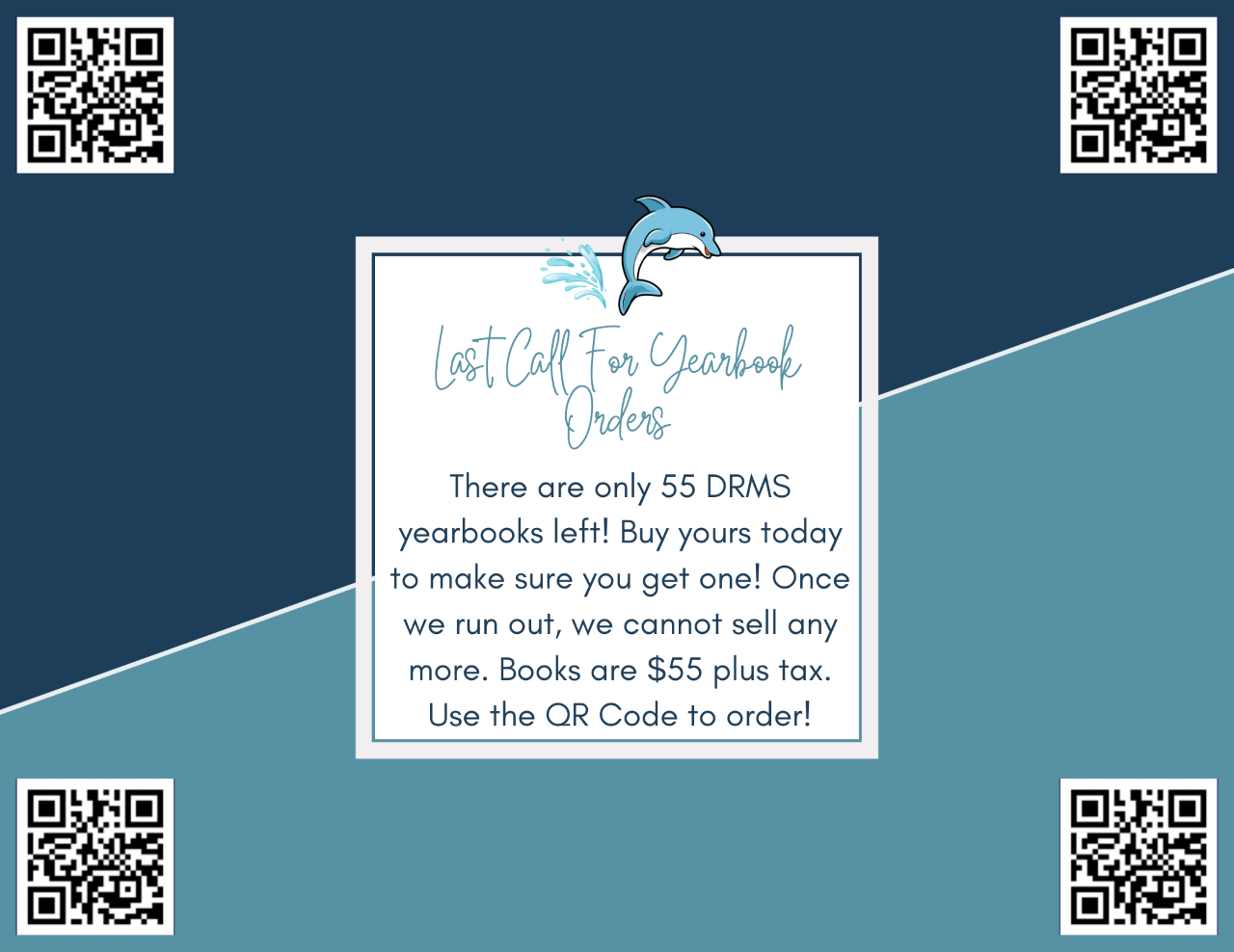 Student Agendas: Student Agendas are used to help students learn organizational skills, time management skills, have an understanding of learning targets, pass to move around the building, and communicate with families. If your student does not have an agenda, they can purchase one in the front office for $5.
Rising 7th Grade - Important! Immunizations Required: NC State Law mandates that all 7th-grade students have their TDAP and Meningococcal (MCV) vaccines by the start of their 7th grade year, July 31, 2023. 7th grade students who have not submitted their immunizations will be suspended based on policy. Please return immunization records showing TDAP and Meningococcal (MCV) vaccines anytime between now and July 31, 2023. Immunization records may be dropped off at the front office or emailed to kbograd@wcpss.net. We appreciate your attention to this mandate.
DRMS PTA Updates:
Are you interested in becoming a PTA Board Member for the 2023-2024 school year? Please email us at durantroadmiddlepta@gmail.com
We look forward to celebrating our eighth-grade class as they prepare to conclude middle school. DRMS PTA and staff are planning an end-of-year celebration. Please consider donating to assist with the cost of all end-of-year activities.
https://drms.memberhub.com/store/items/839271
Thank you for supporting DRMS,
Kristen J Faircloth
Principal