Return to Headlines
Happy Sunday Dolphins! This is Kristen Faircloth, proud principal at Durant Road Middle School, with your December 21, 2020 Family Message.
We are almost there! Two more days of school before the holiday break and track-out officially begin. Monday and Tuesday are Remote Learning days at Durant Road Middle School. Our focus is for students to submit missing assignments and to finish the semester on a positive note.
We want to thank all students and families for their unwavering support this first semester. It's certainly been a challenging year and not what we all envisioned. Thank you for your grace and understanding each step of the way. As principal, I'm endlessly proud to partner with you!
Please take a moment to read the Family Message below. There is important information that pertains to both students and families. We know that second semester schedules are top-of-mind. Please know that the DRMS team is still focusing on what second semester will look like with Virtual Academy applications and cohort students. There will be schedule changes for some students to ensure our classes are balanced and students are safe. We truly appreciate your patience during this time of planning.
The DRMS Weekly Family Message will resume the week of January 24, 2021 (though we will surely send a message if something comes up). In the meantime, if there is anything we can do for you or your family, please don't hesitate to contact us. We hope you have a wonderful holiday break and track-out!
New Elective Opportunity: Based on our student feedback, we are so excited to offer Dance as a new elective option for the Spring semester! This class is for students who want to learn a new art form, express themselves through dance, and are dedicated to becoming strong performers. No previous experience is required for students to be in this class. This class is designed for students of all ability levels to be successful, whether it's a student's very first time dancing or having danced for several years.
Some of the things students might learn would be understanding how to use movement skills in dance, learn choreography basics to create dance, or learn thinking skills to evaluate dance and make it stronger.
If your student would like to be a part of this unique opportunity, please fill out the application link below by Tuesday, December 22, 2020. Completing this application means that you would like your student to be part of Dance class in the Spring semester. Dance will be during Elective 1 classes. By joining this class, your student's elective 1 class for Spring semester will be changed to Dance. Please note, some classes during elective 1 are unable to be exchanged for dance. If you are unsure and your student wants to be considered for the dance class, please complete the application and we will check to see if your student is able to change classes.
Who is teaching this class? We have made a recommendation for a teacher we feel is going to be AWESOME for this new class and our school! We are excited to make an announcement in the future welcoming this new teacher to the DRMS family!
Please complete the DRMS Dance Elective Application here.
Asynchronous/Remote Learning Day: This is a friendly reminder that Monday, December 21st and Tuesday, December 22nd are Asynchronous/Remote Learning Days for all students. The following points will help students and families better understand these days:
No students come to the building
Teachers will provide learning opportunities/activities for students
No live instruction
No new content
Attendance is taken through assignment completion or a form
Teachers can still request to work with small groups of students or 1:1 by inviting them to a Google Meet (focusing on concepts, work completion, intervention, progress monitoring, focusing on learning goals, etc).
Teachers will schedule/load all assignments at the beginning of the day. This will allow students, who choose to do so, to complete all their work earlier to take a break from screen time for the remainder of the day.
2nd Quarter Ends: The second quarter ends on Tuesday, December 22, 2020. All students should submit their school work for second quarter grades by this day. Report cards will be issued on January 29, 2021 (after track out). We want all students to finish the quarter strong by completing all work and being engaged in both in-person and virtual classes!
2nd Semester Materials Pick-Up & Schedules: We know that students and families are anxious about what second semester will look like at Durant Road Middle School. Please know we are still finalizing any potential schedule changes as a result of Virtual Academy versus cohort decisions. There are many factors that must be taken into consideration to ensure our building is safe for the arrival of more students. This includes balanced class sizes, balanced cohort sizes, staffing, and the least disruptions to student schedules. Families will be notified if your schedule is affected for the second semester. Our goal is to have 2nd semester schedules ready to distribute on 2nd Semester Materials Pick-Up day, Thursday, January 21, 2021. Thank you for your patience throughout this process and please reach-out with any questions.
Assignment Strips: As we begin to think about next year, parents/legal custodians with a PowerSchool account will access their 2021-22 School Assignment. Families will be able to sign into their PowerSchool account and access this information as seen below: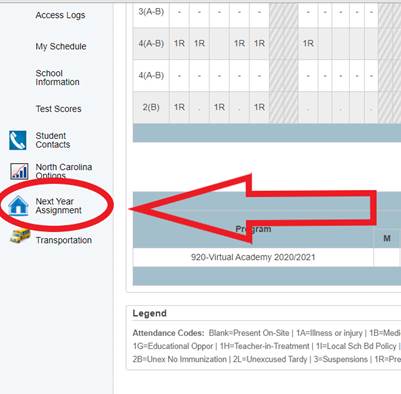 This is located on the main screen at the bottom of their parent portal. Please contact the main office with any questions.
Wishing you and your family a wonderful holiday season,
Kristen Faircloth
Principal