CODE YELLOW
December 4, 2017

Dear Parents,
This is Nanette Lavery, Principal at North Forest Elementary.
First, know that all students are safe.
We would like to provide you with information about an incident that happened within the community today.
At approximately 9:25 this morning, our school went into a brief community lockdown due to police concern in our surrounding community. The lockdown lasted approximately an hour.
In a community lockdown, all exterior doors of the school are locked and no one is allowed to enter or exit the building until an all-clear announcement is received from police. The school operates "business as usual" with the exception of no outside activities.
These steps are taken as a precautionary measure to ensure the safety of our students and faculty. Once Raleigh Police gave us the all clear, the lockdown ended without incident.
If you have any questions, please contact our front office. Thank you for your continued support of North Forest Pines Elementary School.
Nanette O. Lavery
Principal
Going Green Email Registration
If you would like to register to receive updates and other school information through email, please register here. Email registration information will be shared with classroom teachers.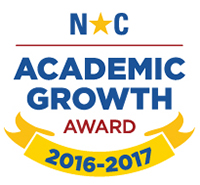 SOAR Run
Our SOAR Run was a huge success!! Thank you students and families for your support of the SOAR Run!! Click here to get the latest information.