Return to Headlines
WCPSS celebrates National School Breakfast Week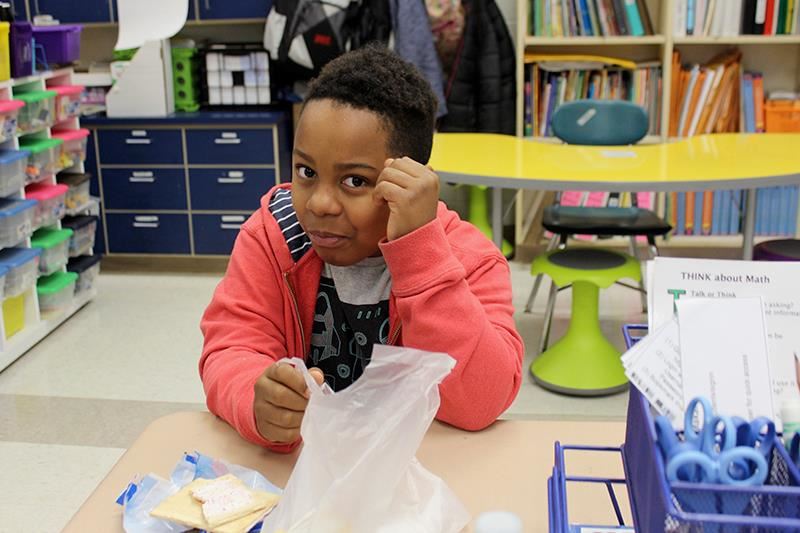 WCPSS educators and Child Nutrition staff will encourage students to begin their day with a healthy breakfast during National School Breakfast Week, March 4-8. All WCPSS schools provide breakfast and some include programs geared toward increasing participation in school breakfast.
WCPSS serves more than 20,000 student breakfasts daily that meet federal nutrition standards by including fresh fruits, vegetables, lean proteins and whole grains while limiting saturated fat, calories and sodium.
"A healthy breakfast at the start of the day is one way to ensure students are getting the best education they can," said Paula De Lucca, Senior Director – WCPSS Child Nutrition Services. "National School Breakfast Week helps us educate parents and students about all the healthy, great tasting, and appealing choices we offer."
U.S. Department of Agriculture data shows that more and more students are starting their day with a nutritious breakfast in their school. The USDA School Breakfast Program currently serves 14 million students every day. Studies show that students who eat school breakfast are more likely to:
Have better concentration and memory
Be more alert
Maintain a healthy weight
The National School Breakfast Week campaign theme, "Start Your Engines," reminds the entire school community that school breakfast provides a healthy and energizing start to the day. It helps students think about the importance of making healthy choices a lifelong habit.
WCPSS Child Nutrition has used the Breakfast in the Classroom program to increase breakfast participation in schools. Four WCPSS schools - Barwell Road Elementary, Fox Road Magnet Elementary, Smith Magnet Elementary and Wakelon Elementary - began Breakfast in the Classroom this school year, thanks to a $52,000, three-year grant from the Partners for Breakfast in the Classroom-- a joint initiative from the Food Research & Action Center, National Association of Elementary School Principals Foundation, the NEA Foundation and School Nutrition Foundation.
"At Fox Road, we appreciative that we are able to offer a breakfast program to our students," said Dr. Robert Lewis, the school's principal. "The connection between proper nutrition and learning is important and well documented. Our breakfast in the classroom program provides this important opportunity to support the learning of all of our students."
The Breakfast in the Classroom program provides kiosks in classroom hallways where students pick up their food on the way to class. Students eat at their desk, completing work sheets and talking with fellow students. The program has increased student participation in breakfast at school, reduced delays in starting the instructional day and brought more order to the start of the school day.
WCPSS Child Nutrition uses Breakfast in the Classroom at eight additional schools: Creech Road, East Garner, Fuller, Lake Myra, Laurel Park, Rogers Lane and Walnut Creek elementary schools, and River Bend Middle.
National School Breakfast Week was launched in 1989 to raise awareness of the availability of the School Breakfast Program, a federally assisted meal program operating in public schools since 1975.
Find more information about Wake County's school meals at https://www.wcpss.net/school-meals.