Return to Headlines
Welcome February! - 2.10.23 Memo
Please Have ID to Enter Building
During school hours - 8:00am - 3:30pm, please have your ID ready when requesting to enter our elementary school as well as pick up your learner. Due to not knowing who will be covering the front desk, all those requesting access should be prepared to show their ID.
Refrain from Energy Drinks
Please DO NOT send energy drinks to school with our Little Leopards. Many of them have age limits, including for 18 and older. This is a safety risk when consumed. We will not be permitting our Leopards to drink them when we find they are in their possession.
Bus Driver Appreciation Week
Send your driver some love...we have been blessed with committed drivers this school year!
Join Us for Semester Two Family Fun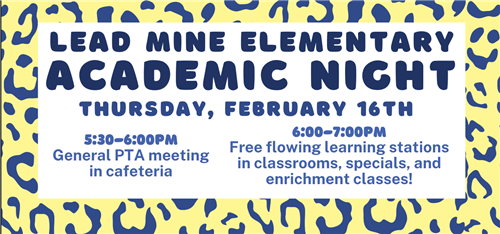 No School for Students Monday, February 20, 2023
Our campus will be closed, Monday, February 20th for staff and students.
Digital Citizenship
Please be mindful of what your littles are doing when on their devices - Chromebooks, laptops, cell phones, gaming machines connected to the internet, any and all access. Without our guidance, their innocence can lead them down harmful paths. Many of the social media sites, games, videos, and shows we are hearing of them accessing are meant for ages 13 and up...not elementary students.
Counselor News
Click Here to read all about the work of our amazing school counselors!
Carpool Etiquette
Again, there is a NO LEFT TURN policy into and out of our campus during arrival and dismissal. There is also a NO U-TURN at our bus loop...which has now increased due to our explicit reminders about no left turn.
We are a no-smoking campus. If you choose to smoke in the carpool lane, please be respectful to the cars around you and not blow secondhand smoke out the windows.
Are you a certified teacher? Do you know of a certified teacher? Are you a retired teacher?
We are looking for a few great teachers to serve as long-term substitutes for classrooms at Lead Mine. If you are a certified teacher who would love to long-term substitute, please email me jwojdylo-kehler@wcpss.net! We will be in need of amazing learning leaders in late February, April, May, August, and September.
Current school needs are: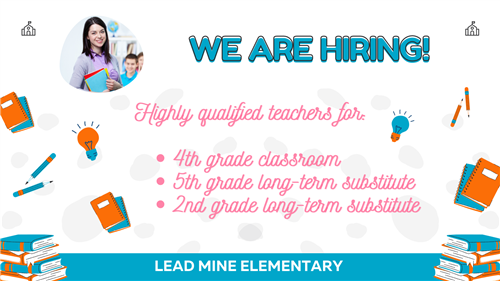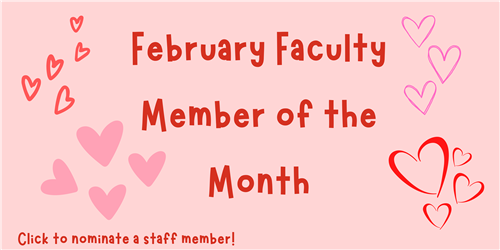 Click Here to nominate a staff member who has gone above and beyond for your little leopard this month!! Spread the love!