Return to Headlines
Welcome December - 12.2.22 Memo
Welcome December!
What a great week having many of our families in the building to celebrate a love of reading as well as have shared lunchtime with a loved one! Lead Mine is truly a special place! A very special thank you to all those who made this special week a successful one...from volunteers, to faculty & staff, to the families who joined us! To hear our littles say, "Can we do this every day..." brings an enormous amount of joy to our hearts!
Thank You!
Thank you to those who donated to our Birthday Book eWallet account for use at the Book Fair ~ Our Leopards LOVE to celebrate their special day by choosing a book from the buckets! We were able to purchase 58 new books to place in the Birthday Book buckets!
Thank you to all those who gave to Ms. Peters' and Ms. Potts' Donors Choose grants...they were fully funded this past Tuesday! So excited for our Leopards to have the experience they are under the direction of two amazing specialist Leopard Leaders!
Time...so much time...was given this week to so many meaningful opportunities. From the hours of preparing for and supporting our Book Fair, to the hours of preparing for our Art Extravaganza & Chorus Concert, to shared lunchtime with loved ones..THANK YOU to all who gave so many minutes to fill our building with joy!
If you were unable to make our Art Extravaganza event...we have posted some of the amazing products on our website banner. Our Leopard Artists have created phenomenal art!
Monday Early Release
Monday, December 5th is an early release day. We will begin dismissal at 1:00pm so that our teachers can engage in professional development around the science of reading.
Winter Spirit Week Days!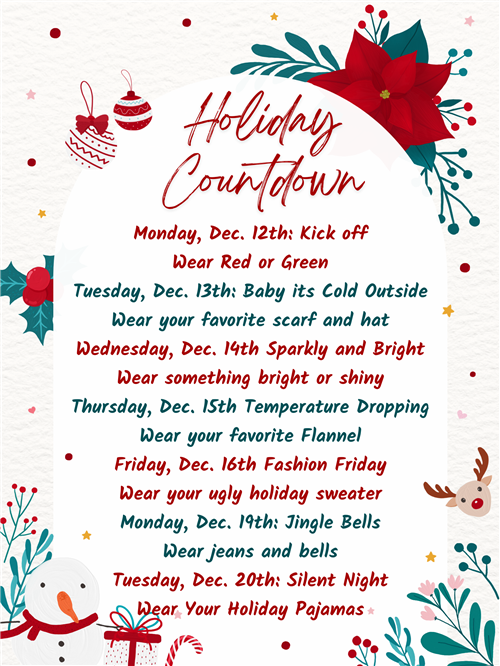 Click here to nominate a Lead Mine Staff member to represent our school as the December Faculty Member of the Month!