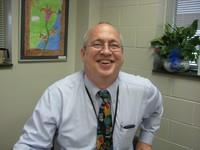 Phone:
Email:
Degrees and Certifications:
Mr.

Chip Mack

Principal


James "Chip" Mack graduated from East Carolina University in 1981 with a BS – Theatre / Education. He graduated from North Carolina State University in 1992 with a Master's in Educational Administration and Supervision. Mr. Mack taught for ten years at various Wake County Schools -- Conn, Hunter, Olds, and Washington Elementary. He served as an assistant principal at Powell Elementary and as a principal at Root Elementary for ten years before moving to become the principal at Davis Drive Elementary. Mr. Mack loves working with students, teachers, and parents. He knows that all children can and will learn with the staff at Davis Drive Elementary School.
Phone:
Email:
Degrees and Certifications:
Mrs.

Julie Cutler

Assistant Principal

Julie Cutler graduated from the University of North Carolina at Chapel Hill in 1982 with a BA in Early Childhood Education. She graduated from East Carolina University in 1985 with a Master's in Elementary Education. In 2011, Mrs. Cutler completed the School Administration licensure program at the UNC-CH. She also has earned certification as a Mentor and a Reading Specialist. For twenty years, Mrs. Cutler taught in various K-5 classrooms at both the Camp Lejeune Dependents School System and Wake County Public School System (Morrisville and Salem). Since 2003, she has worked as an Instructional Resource Teacher at Bugg, Oak Grove, and Laurel Park Elementary. Mrs. Cutler's goal is to ensure that every child at Davis Drive Elementary reaches his or her potential by growing cognitively, socially, and emotionally.