Return to Headlines
Senior Spotlight: Elijah Rushing, Wake Forest High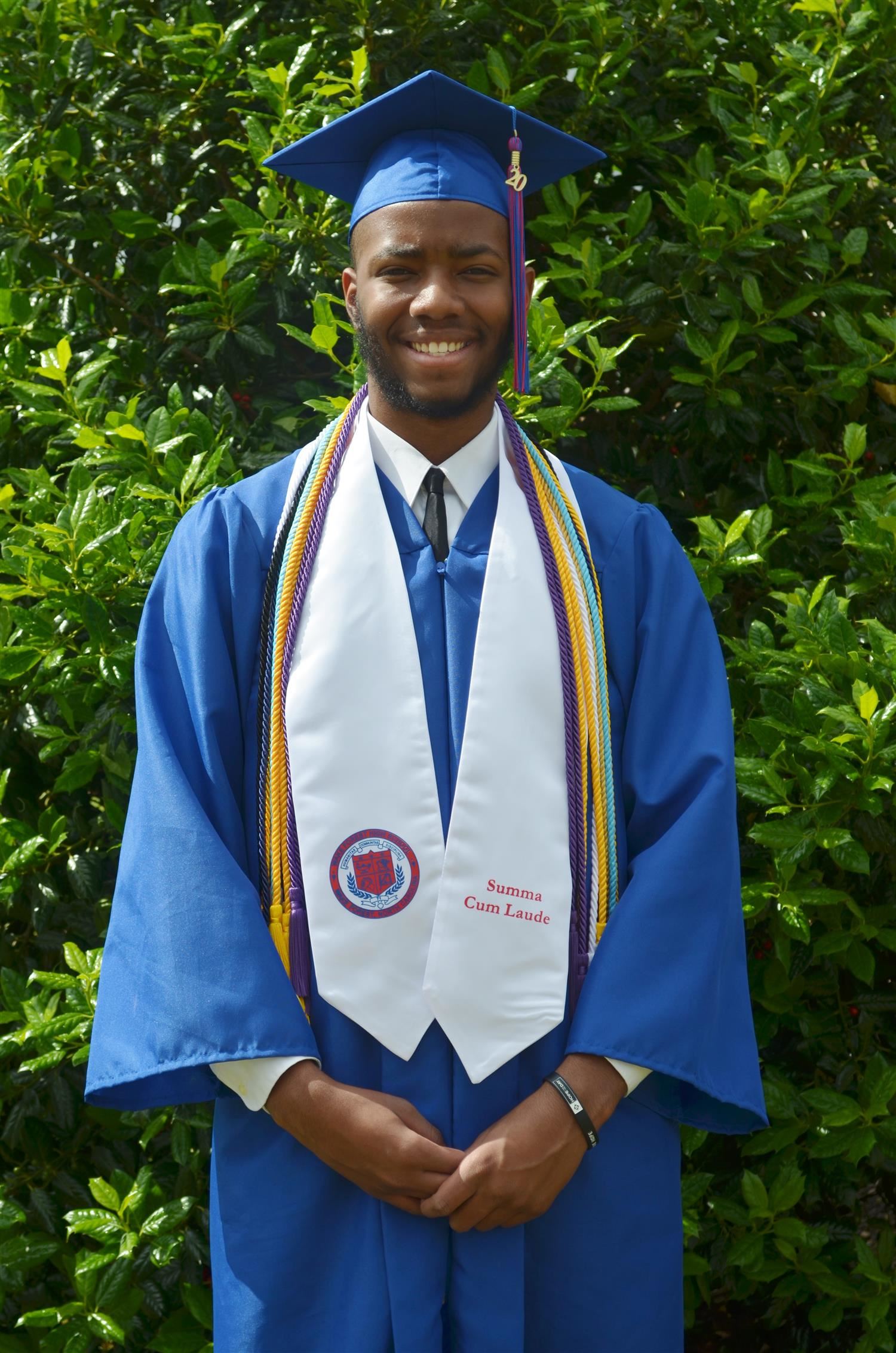 Student: Elijah Rushing
High School: Wake Forest High
College: N.C. State. University
Elijah Rushing stayed very busy during his four years at Wake Forest High School, but he always made time for others.
Media Specialist Heather Fields got to know him well, first as the advisor to the Beta Club academic honor society during his sophomore year. Before long, he was stopping into the library every morning to study or just to say hi, and often would have lunch there as well with members of the Book Club.
"I'm honestly going to miss him so much," Mrs. Fields says.
"Elijah is super smart and driven, but he's not the kind of guy who throws that in your face. He's a quiet leader in the classroom. He spent his four years in high school challenging himself with all of the most rigorous courses. It was a lot to juggle, and sometimes I could tell he was overwhelmed. When I asked him about it, he would respond with a smile and then dive back into his work. No challenge will be too big for him as he moves onto the next chapter in his life. His focused drive and work ethic will not let him fail."
'Go forward'
After years of hard work in AP courses, not to mention on the track and on the cross-country course, Elijah will attend N.C. State University in the fall to study chemical engineering and mathematics.
He said all his teachers over the years had an impact on him. That was certainly true once schools closed, and he still had AP courses and exams to complete.
"My teachers did a great job of communicating with all the students how we were going to go forward with learning," he says. "They sent out work on different platforms and were always available to answer questions."
Missing out on the classroom experience for classes like AP Physics II was a challenge, particularly when it came to lab work.
"But the teachers still did a good job getting us as much information as they could and keeping it as similar as they could to what we would get in the classroom," he says.
'Genuinely good-hearted'
Elijah has a long list of teachers and staff members from Wake Forest High and even going back to first grade who he credited for putting him on the path to success.
There was Mrs. Fields, of course, as well as clerical assistant Laura Bachinsky, Media Coordinator Michelle Angel, and custodian Carolyn Walker.
Then there was:
AP Psychology teacher Rachel Prather

AP Calculus AB and AP Calculus BC teacher Vesta Surles

Honors biology and forensics teacher Donna Garcia

Honors Chemistry teacher Elias Zaytoun

AP Environmental Science teacher Samantha Pontrelli

First grade teacher Anna Skrivin at Wildwood Forest Elementary

Sixth grade math teacher Michelle Rothfeld at Wake Forest Middle

Sixth grade science teacher Erin Lawrence at Wake Forest Middle

Middle school Spanish teacher Maria Pereda at Wake Forest Middle
That, and he also wanted to be sure to thank "all the teachers who would perform small gestures for the students such as saying, 'good morning,' 'good afternoon,' or 'I hope the rest of your day goes well for you.'"
Kindness, clearly, is important to Elijah, and he tried to spread it throughout Wake Forest High School.
He led a project to educate students about mental illness to try to bring about understanding and remove the stigma from those who suffer from mental illness. The project included guest speakers and other means of raising awareness.
"Elijah is one of the kindest, genuinely good-hearted students I've ever known," Mrs. Fields says. "His desire to help people is not born from the motivation to add something to his resume. He really cares about making our world and community a better place. I've seen it firsthand in his community service as I worked alongside him at the Food Bank, in his work tutoring his fellow students to help them be successful, and in how he treats people around him with such kindness and patience."
She added: "His smile lights up the library every time he walks in."
'Great attitude'
Elijah brought that same positive energy to track and cross-country, said Coach Patrick Marshall.
"Elijah was a great kid to have on our team," he says. "He was willing to try almost any event. He ran cross country in the fall, then would switch to doing long sprints in the winter and spring. He also liked to compete in the high jump, long jump, shot put, and discus. Elijah was great to have at practice because he always seemed to bring a great attitude. He was always smiling and having fun, but would still work hard every day."
He received varsity letters in indoor and outdoor track, as well as cross country, and received the track team's Hammer Award for hardest worker.
Elijah said some of his strongest friendships were formed on the track and cross country teams, but it also helped hone his work ethic.
"It helps to form a dedication and show you what it means to put hard work in," he says.
"Putting hard work in on the track helped me put the hard work in the classroom."
'A good way to help'
Chemical engineering will allow him to combine his three driving forces: strong work ethic, a love of math and science, and a desire to help others.
He said ever since he was a young boy he would receive books about science and lab experiments for Christmases and birthdays.
Then in his middle school years, Elijah started to do in-depth research into chemical engineering.
"I just like the idea of working with different materials to make new products to help people," he says.
"With chemical engineering one could work with medicine, food, clean water. I thought that was just a good way to help people while still pursuing something I was interested in."

'Final goodbyes'
His mother, Valerie Rushing, an instructional assistant in a special education classroom at River Bend Middle School, says she's thankful for all three of her sons who have graduated from Wake Forest, with Elijah following brothers Caleb and Joshua.
"I'm very pleased with the education they received at Wake Forest High and really all the Wake County schools they attended, and of course I'm very pleased with what he has accomplished." Mrs. Rushing says.
She also applauded his teachers for continuing teaching after school closure. She and Elijah both expressed the disappointment shared by so many seniors about missing out on some of the traditional graduate experiences and not getting to say some of his "final goodbyes."
But she took the long view when she said, "At their 10-year class reunion, they'll really have something to reminisce about."
'Very bright future'
Mrs. Fields can't say enough about Elijah, both the void he will leave at Wake Forest High and the mark he is sure to leave on the world.
"I am so proud of the young man that Elijah has become, and I feel lucky to have been a small part of his journey," she says. "I'm sure he learned a lot in his courses during high school, but he taught everyone around him more. He has walked through his high school years with intelligence, humor, compassion, kindness, and class. I know he will continue that same walk into his very bright future."