Return to Headlines
Senior Spotlight: Madelyn Wilson, Apex Friendship High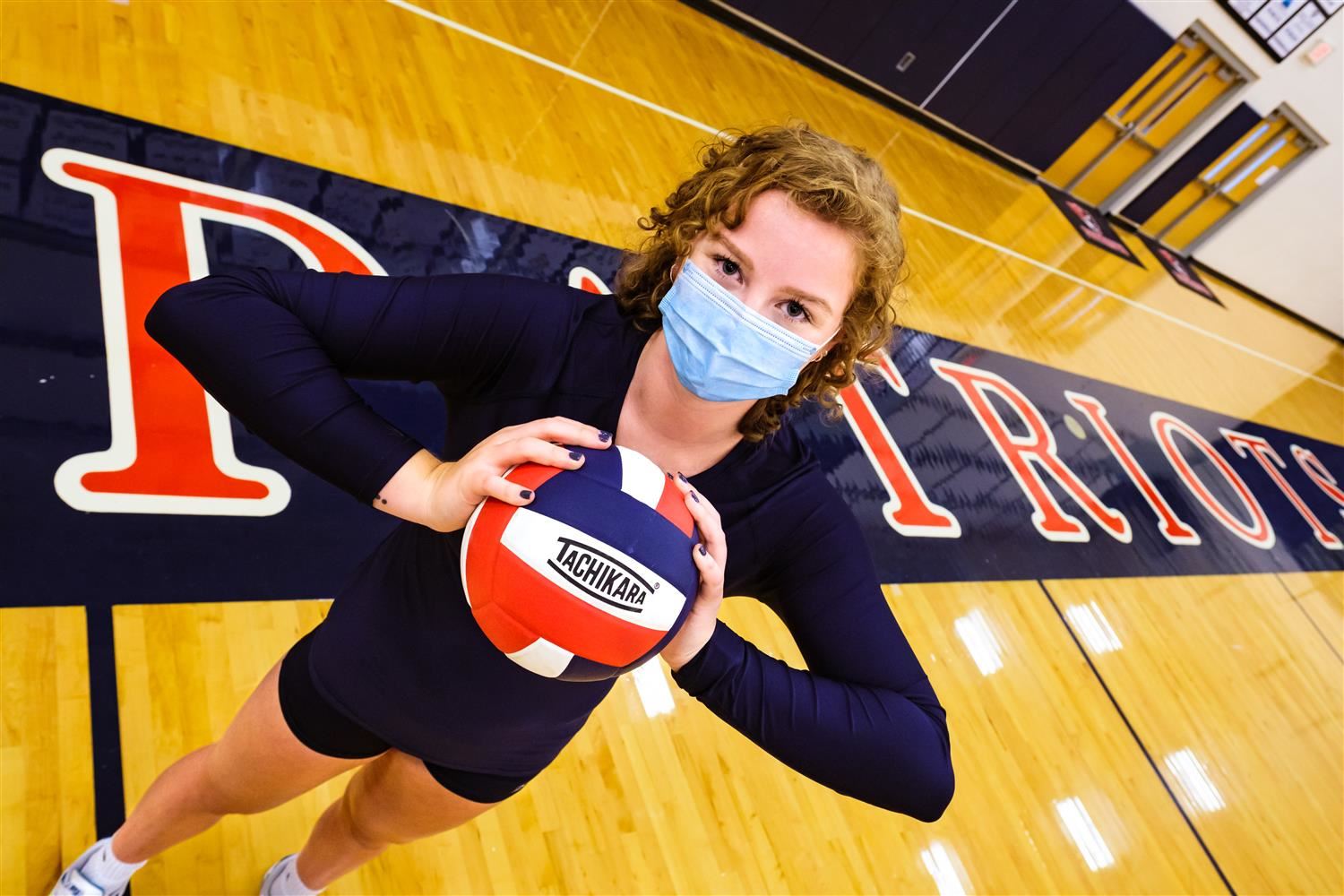 June 7, 2021
Madelyn Wilson
Apex Friendship High
College: Wofford College
Apex Friendship High Senior Madelyn Wilson is no stranger to the volleyball court. She started playing in a recreational league at 9 years old. This year, she practiced, lifted or competed at least six to 10 hours a week either with the Triangle Volleyball Club or with her high school's varsity team.
"I love the community, the friendships and how we form a family within the club or team," she says. "We are always there for each other."
She is also no stranger to virtual learning and quarantine. After two years of dealing with repeated sinus and respiratory infections, her bloodwork showed that something wasn't right. She was diagnosed with Stage 4B Hodgkin's Lymphoma in October 2017, during the fall of her sophomore year.
"I was definitely wearing a mask before it was cool," she says.
Once her treatment started, her dad, Tony Wilson, who was an Assistant Principal at Apex Friendship High at the time, would bring her work home. She finished her sophomore year virtually. Volleyball took a backseat as she focused on her treatment and staying healthy.
Staying Focused Through Setbacks
She was cancer free for six months before relapsing in 2019. She transferred to homeschool. She remained isolated from friends, classmates and teammates during her stem cell transplant, six weeks of radiation and another round of chemotherapy. Her 2020 graduation was delayed.
"My dream has always been to play volleyball in college, so this was a really dark point in my life. I was actually more worried about my dreams being crushed than my health at that time."
But there would be no crushed dreams on her dad's watch. He did some research and discovered that she could be eligible for a medical hardship from the N.C High School Athletics Association. He applied, and the request was approved. Wilson was reclassified as a senior and granted the opportunity to play one more year of volleyball with her team at Apex Friendship High.
"I do not know how it would have been if I wasn't so focused on my goals and keeping a positive mindset." she says. "This year has been such a gift."
Wilson also has been a gift to her team. She helped to lead them to the playoffs. While they lost to Cardinal Gibbons High (current state champions) in the second round, recruiters took notice.
After considering multiple options, Wilson committed to play with Wofford College in South Carolina. She starts training camp there in July. She also earned an Academic Merit scholarship that will cover half of her tuition.
Advocating for Young Patients
As she looks ahead to college and the future, Wilson wants to make sure she continues to use her experience from the past few years to help others.
"My next dream is to coach volleyball, but I also want to think realistically," she says. "After my own mental health struggles during cancer, I have been thinking about going into psychiatry and focusing on treating those patients like me who are caught in the awkward place between pediatric and adult treatment."
But Wilson isn't waiting until college graduation to start making a difference. She currently serves as a patient advocate for the Duke University Teen and Young Adult Oncology Program. In this role, she speaks to young cancer patients and provides leaders of the program her insight on things that were lacking during her treatment journey.
Light at the End of the Tunnel
While this year has been unique and often challenging for many high school seniors, Wilson is using her second chance as a senior to see the silver linings.
"We have such an incredible opportunity to attend school and play sports," she said. "Don't take it for granted. Stay positive and remember that there will always be a light at the end of the tunnel."