Exhibition! Thursday, February 11th at 7:00pm
School Pictures are Thursday, February 18th
Wake up and Read Book Donations are being accepted through the month of February. AM Carpool drop off of book donations will be available on Thursday and Friday February 18/19 and 25/26.
Read to Feed for Heifer International project begins with visiting Author John Claude Bemis on March 1st and runs through March 18th. We will work to reach our school goal so we can help ourselves become stronger readers, help a community have what they need and so that Mrs. Pierce, Mr. Beamish and Mrs. Plotkin will have to kiss and milk a cow!
FWES Students, tell us about the ACTION you have taken with your learning. Share your action through twitter as well with pictures and information #fwesaction (please remember to tag us in your post @fwesibpyp)!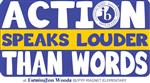 FWES has fantastic staff members that are the superheroes of our school community. Take the time to Recognize one of our staff members for all the hard work they do!