Principal Message: January 15, 2017
As I'm sure you are aware, school is closed tomorrow as we celebrate the Martin Luther King, Jr. holiday. In addition, this Friday is an Early Release Day. All students will be released at 1:10. We ask that you refrain from checking your child out early unless they have a medical appointment that day and every day, as our teachers will be providing important instruction right up till dismissal. Finally, next Friday, January 27, is now a school day, as we are making up one of the days we missed due to inclement weather.
This week we are continuing to focus on literacy, math, and science. Please help your child by making sure that they complete all homework. Also, feel free to contact their teachers if you have additional questions about ways we can partner to help every child grow academically this year. 2nd quarter ends on January 24, and we have many engaging instructional activities planned for our children.
Thanks for your ongoing support and partnership. We greatly appreciate our Bugg families and community and will continue to work together
Thanks for your ongoing support and partnership.
Becky Foote
Academically or Intellectually Gifted Program

Nomination Window for 2nd Semester is now open. The nomination window closes January 24, 2017.

Nominations can be made via email, phone message, note to homeroom teacher, or verbally and should be made to:

Pamala Roberts, AIG Teacher,

proberts@wcpss.net; 919-250-4750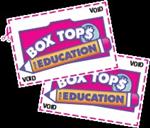 Help us earn cash for our school. Clip Box Tops from your favorite products and turn them in to your child's school today! Box Tops are each worth 10¢ and they add up fast. For more information or to find out about participating products visit www.boxtops4education.com.