Principal Message: December 5, 2016
I hope you and your family enjoyed a wonderful weekend. We look forward to seeing your child this week for another very productive week. Please encourage your child to be attentive and to work hard every day, and to remember the 3R's – Respect, Responsibility, and Ready to Learn.
Our Student Talent Show has been postponed and will be held sometime after the first of the year. We will share information regarding this as it becomes available.
From our PTA : The Attractions coupon book sale has been extended through December 9. Each book contains thousands of dollars in savings with additional online and mobile app options. Give these as a gift or keep one for yourself and your family. Either way, these are a great deal and support the programs and efforts of our Bugg PTA, so your participation is appreciated!
Please refrain from checking your children out early at the end of each day unless you have a documented medical appointment. Students in every classroom are working on either math or literacy each afternoon. Missing class time means missing learning opportunities in these important content areas! The same is true each morning. Please make an extra effort to ensure that your child is at school on time every day. Student attendance has a tremendous impact on achievement. Working together, we can help every child make academic growth this year!
Let's work together to make this another great week of learning for every child!
Becky Foote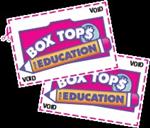 Help us earn cash for our school. Clip Box Tops from your favorite products and turn them in to your child's school today! Box Tops are each worth 10¢ and they add up fast. For more information or to find out about participating products visit www.boxtops4education.com.