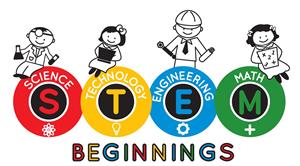 On September 2010 the nation's educational community was challenged by the Presidential Initiative to "Educate to Innovate". York Elementary accepted this challenge by applying for and receiving a "STEM" (Science, Technology, Engineering and Math) grant to develop and incorporate STEM concepts within York's curriculum. Over the course of a few years, in 2016-2017 we became recognized as a NC STEM School of Distinction.
The STEM concept is achieved by integrating the critical STEM disciplines while maintaining a focus on peer learning and student projects. York's evolving classrooms creatively use STEM concepts to redefine the 21st century classroom. Teachers and students around the school take the opportunity to use the collaborative spaces and STEM lab in order to enhance the student's experience.
Pre-Kindergarten through Fifth grade student products will be featured at York's STEM Expo, March 31st from 6-8 pm.
As a country, we need to improve the STEM skills of our students, for this is the foundation of a technically proficient workforce capable of meeting future employment needs. As history has taught us, the solution to every national program is achieved locally. We at York believe that we are taking the right step in preparing our future workforce to successfully compete in a global environment.
STEM links for ENGINEERING anytime!
Ms. Osterhoff's Website: http://detectiveosterhoff.weebly.com
Interactive Websites on STEM: http://stem-works.com/activities
BBC Clips (Literacy, Math, and Science): http://www.bbc.co.uk/education
Teacher Resources:
Teacher Interactive Science and STEM lessons
Dream Big: Engineering Our World
Everything you need to know about Bridges
Grades K-2
Grades 3-5