Happy New Year Bulldogs! Within the next several days, we will open our school doors to welcome you to the 2015-2016 new year. We are looking forward to a productive partnership with you to ensure our children can achieve their highest potential. We are elated about our returning and new staff (Click to preview).
2015-2016 Grade Level Supply Lists
PTA Officers Needed for 2015-2016
The PTA needs leaders for next year. They are especially in need of a Treasurer, Secretary, Teacher Appreciation Chair and Fall Festival Chair. If you are interested or would like more information, please send an email to baileywickpta@gmail.com or contact Natalie Schoeny directly at 919-324-4455.
Summer Reading Resources
(click below for more information)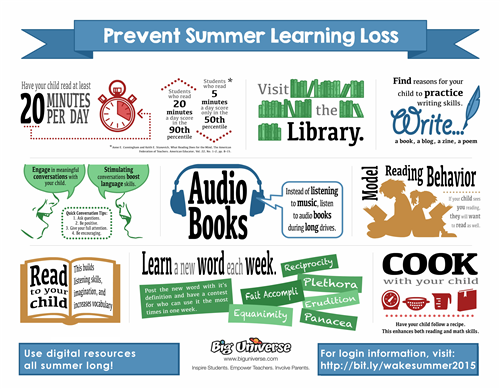 Baileywick Summer Reading Club
Calling all returning Bulldogs! If you are coming to Baileywick next year then you need to check this out. We are holding our FIRST annual Summer Reading Club
this
summer. On Monday, June 1st you will get your summer reading log in your book bag (or click the link on our website). Choose how much you are going to participate and start logging your reading. Bring the completed form back to school in the fall and enjoy all the rewards of being in the Club. Our Reading Club Celebration will be during the first week back at school and you WON'T want to miss it! Stay sharp - keep reading this summer! ! ! ! We can't wait to celebrate with you in August! Click here to access Summer Reading Log.