Posted by Mark Kenjarski on 4/3/2020
Dear Partnership Families,
We hope that you are all safe and healthy during this unprecedented time. With the closing of school by the governor through at least May 15th, WCPSS is moving forward with new learning in a completely remote environment. Our first day of new learning will be on Monday. Remote learning will look different than the traditional 6.5 hour school day. Each day students will have two hours of learning including specials. In addition, teachers will have office hours daily. You will notice that with the exception of lunch (WCPSS feeding site hours) and teacher office hours, there is no set time of day for learning. This is done on purpose to provide maximum flexibility. Lessons will be recorded and work posted in our teachers' Google Classrooms for students to access any time during the day based on family needs. Please see our school schedule below and on our school website. You may find teacher office hours in our teachers' Google Classrooms and with teacher contact information on grade level websites.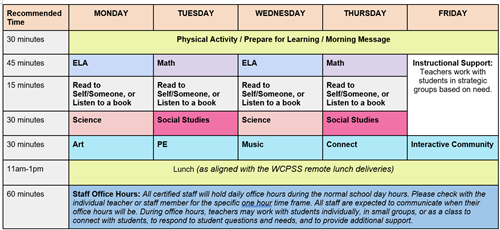 We anticipate there will be challenges as we move from a face to face environment to screen to screen. Please give us grace as we work through them. Our teachers are excited and up for the challenge of this new form of learning. As parents, you can help your children by making sure they are logging in to their teacher's Google Classroom and they are completing the assigned activities daily. Talk to them about what they are learning. Encourage them and be supportive of their efforts. If you have questions, reach out to your children's teachers. WCPSS has created a Remote Learning Website. It has a lot of information, including additional academic activities and a way for families to get technology assistance with their devices.
Kindergarten, first, third, and fifth grades all had fourth quarter field trips cancelled with the closing of schools. Parents in these grade levels may request a refund for these cancelled field trips. WCPSS has a procedure for requesting a refund. The first step is to find out which families are requesting refunds and get the correct information for mailing. Please use this form to tell us whether you wish to request a refund of the money you paid for your child's trip or to donate the money to our school's field trip fund. We must receive a response from you to process a refund. The deadline for submitting this form is Friday, April 17.
Please note that refunds may take a little while to be processed because of our accounting process. Our funds are not in the bank to be immediately accessed, so we have to request the money from the district, have it added to our checking account, write a check, then mail it to you. Thank you in advance for your continued patience in these challenging times.
The North Carolina Department of Public Instruction has not extended its contract for Istation, the statewide reading diagnostic program effective this week. Parents in grades K-3 will soon no longer be able to log into Istation and use the materials there.
Finally, WCPSS has created a COVID-19 informational update page for families. Please visit it to get the latest information for food programs, information updates, and other helpful resources.
Partnership will continue to follow its normal instructional calendar so there will be no school on Friday, April 10th. We hope you stay safe and healthy. Please reach out to us with questions or concerns during this unprecedented time.
Sincerely,
Mark Kenjarski and Michele Tempke
Senior Partners