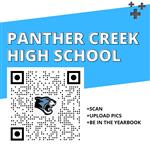 Don't get left out of the 2022 The Prowler Yearbook! Scan this code and upload pictures to our Panther Creek site today!
What is COMMUNITY PHOTO SHARE?
Jostens Community Photo Share provides a web-based portal (no app needed) for parents and students to upload photos for the yearbook staff to be able to use in the yearbook. Scan the custom QR code for our school, and upload pictures to the Panther Creek site at Jostens Printing and Publishing.
---