Return to Headlines
Dear Apex Cougar Families,
I hope this message finds you healthy and well! It has been quite a year! Thank you all again for your continued grace and support! Your constructive feedback and words of encouragement & appreciation have been invaluable during this unprecedented time in our history.
A Message of Racial Solidarity
Our country finds itself in the midst of multiple crises as we are witnessing racial violence at an unprecedented rate. I know I speak for all of us as staff at Apex ES, that we stand firm in our commitment to uplifting our students, communities and staff of color. Racism and bigotry have absolutely no room in our community!
As members of the Wake County Public School System, one of our core beliefs states: "The Board of Education, superintendent, and all staff value a diverse school community that is inviting, respectful, inclusive, flexible and supportive." We remain dedicated to this belief. If racism is something we have built as a society, I have great hope and faith that it is something that we can tear down together.
Student Personal Item Pick Up
Please read this memo regarding picking up student personal items and spring pictures.
Assigned Car-Pool Pick up days for Families by Last Name Alpha:
*** Items will be arranged by last name and grade level in the gym in advance. Families will drive through the carpool lane to pick up items. Staff will be on hand with walkie-talkie radios in order to communicate back and forth from the carpool lane to the cafeteria.
Monday, June 8th:
Last Names

A-F

: 9:00 am - 11:00 am

Last Names

G-M

: 1:00 pm - 3:00 pm
Tuesday, June 9th:
Last Names

N-Z:

9:00 am - 11:00 am
Please note that some yearbooks were mailed home by TeeSpring and some have arrived at the school. If we received yours at Apex ES, we are including them in your bags on student item pick up day.
Report Cards
Report Cards were emailed home on Friday, June 5th. In some instances, they were US Mailed. If you have not received your report card by Thursday, June 11th, please contact your teacher.
This week! Fifth Grade Moving Up Event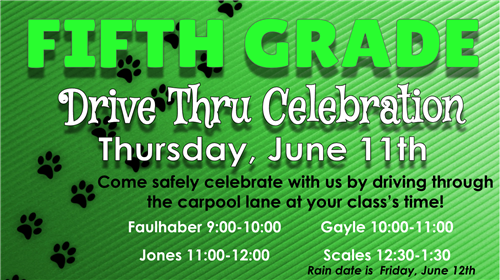 Summer Break & Well Wishes:
The Apex staff family wishes all our students and families a wonderful, restful and safe summer filled with sunshine, family, friends and fun! We hope to see you all back in the fall. If you are moving on or moving up, know we are proud of you and wish you well.
And remember: Once a Cougar, Always a Cougar!
Apex Elementary's Vision: One family working together to provide a supportive, rigorous learning environment while developing life-long learners.
Warmest Regards,
Katie Caggia