Return to Headlines
Dear Apex Cougar Families,
I hope this message finds you healthy and well!
Save the Date: Fifth Grade Moving Up Event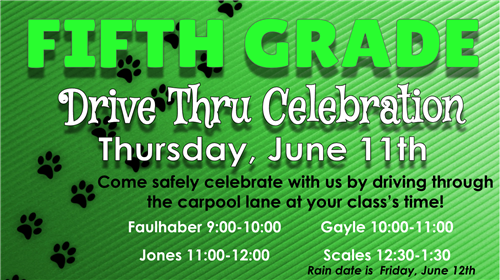 Details to follow!
Save the Date: Virtual PTA Meeting
Our PTA will host a virtual PTA meeting, via ZOOM, on Wednesday, May 27th at 6:30pm. Details to follow!
From WCPSS: Important: Grading Guidelines
We have developed grading guidelines that align with NC State Board of Education revised grading policy.
These guidelines are designed to provide clarity and understanding for students and families around how grades will be determined for the second half of the 2019-20 school year. They address grades, feedback and promotion decisions. We also have provided summaries of these guidelines with key dates, timelines and checklists.
Grades PreK-5 | Summary of Guidelines, Full Guidelines
Grades 6-8 | Summary of Guidelines, Full Guidelines
Grades 9-11 | Summary of Guidelines, Full Guidelines
These guidelines are based on guidance from the NC Department of Public Instruction. Please contact your child's teacher with questions.
Again, we appreciate your patience and understanding during these unprecedented times.
From WCPSS: Please take a quick survey on your remote learning experience
We would like for families to provide feedback on their students' remote learning experience so far. This will be the first of two surveys this semester designed to help us improve remote learning. Please complete the survey by May 20: https://www.surveymonkey.com/r/N985N68
Memorial Day Holiday
Monday, May 25th is Memorial Day. This day is a holiday for staff and students. There will be no remote learning on this day.
Reminder: All Playground and Athletic Fields are Closed
Due to local and state directives, all school facilities including all playground and athletic fields are closed. For the safety of our community, we ask that your family please adhere to the guidelines.
Food Collection and Distribution
Anyone who needs food assistance should visit wcpss.net/food to find the food distribution site nearest you. If you cannot get food from one of these sites, please contact someone at your child's school, so we can try to provide assistance. We are continuing to add new food assistance locations and options, so please check this page regularly for updates.
Support
Please know that I am here to support and serve you as your Apex ES Principal. Please do not hesitate to reach out with any questions or concerns you may be having. My email is kcaggia@wcpss.net.
Apex Elementary's Vision: One family working together to provide a supportive, rigorous learning environment while developing life-long learners.
Warmest Regards,
Katie Caggia