Return to Headlines
Dear Apex Cougar Families,
I hope this message finds you healthy and well! Thank you for all of your efforts as we navigate our current phase of remote learning! You are critical partners in this endeavor. Please know that we, the Apex ES staff, appreciate all that you are juggling at home. Below are my thoughts for you as you juggle home, work and school through June 12th. Please know that Apex CARES!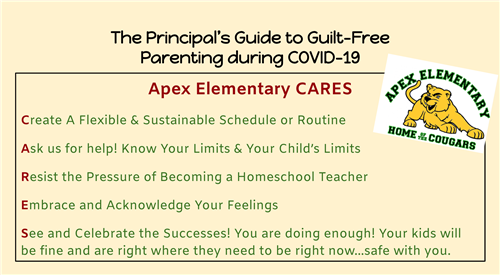 Nominate a WCPSS Hero
We are looking for employees who are going above and beyond right now to spotlight on WakeConnect and @WCPSSTeam. The process to nominate is simple – just send the name and a few other details through our #WCPSSHeroes Nomination Form.
Teacher Appreciation Week: May 4th-8th
As part of teacher appreciation week, we would like to collect and share your words of appreciation. Please fill out this short form: Teacher and Staff Shout Outs! We will share shout outs during teacher appreciation week and continue to collect and share them through June 12th!
Attention K-4th Grade Parents
In order for us to plan for the 2020-2021 school year, we request that you take 2 minutes to complete an Intent Form for each of your K-4th grade students specifying your plans for the next school year. Please complete this form no later than Wednesday, May 6, 2020. If you have questions related to this process or to WCPSS enrollment more generally, please contact Tonya Oliver at toliver@wcpss.net
AES Student Device and Hotspot Distribution: April 29th
This past week, we received our allotment of AT&T WiFi hotspots. These are separate devices that allow you to connect your technology devices to the Internet. Families who have previously indicated that they need both a wifi hotspot and a device will be contacted by their teachers either Monday or Tuesday regarding pick up.
Even under normal circumstances, the transition from elementary to middle school is often an exciting, yet nerve-racking time for students. We want rising 6th graders to feel prepared for middle school. Parents can help enhance students' comfort level with this change by exposing them to common concerns that arise in middle school and equipping them with skills necessary to be successful. We encourage you to read and review this transition guide with your rising 6th grader.
Remote Learning Links
Teachers and students have now started a new phase of remote learning. And while this new phase won't replace classroom instruction, it will provide equitable and continuous learning opportunities to the extent possible. The following are some links to assist you as we navigate this learning adventure together:
For student safety and security, please do not post Google Meet Links on the web. Thank you!
Technical Support
As you are working with your student, there are resources and support available for your family regarding how to log in and how to use specific digital tools. If you have a technology issue and need help, please contact the Student Help Desk at StudentTechHelp.wcpss.net or by phone weekdays from 7 a.m. to 5 p.m. at 919-694-8100.
All Playground and Athletic Fields are Closed
Due to local and state directives, all school facilities including all playground and athletic fields are closed. For the safety of our community, we ask that your family please adhere to the guidelines.
North Carolina approved the distribution of additional resources to families receiving free or reduced-price lunch. The additional benefits will be through the Pandemic Electronic Benefit Transfer Program (P-EBT) to help families buy food during the COVID-19 school closure.
We realize that many families' economic and employment situations have changed during this pandemic. Families can apply at any time for free or reduced price lunch, which may also qualify you for other state and federal benefits.
Food Collection and Distribution
Anyone who needs food assistance should visit wcpss.net/food to find the food distribution site nearest you. If you cannot get food from one of these sites, please contact someone at your child's school, so we can try to provide assistance. We are continuing to add new food assistance locations and options, so please check this page regularly for updates.
Support
Please know that I am here to support and serve you as your Apex ES Principal. Please do not hesitate to reach out with any questions or concerns you may be having. My email is kcaggia@wcpss.net.
Apex Elementary's Vision: One family working together to provide a supportive, rigorous learning environment while developing life-long learners.
Warmest Regards,
Katie Caggia