Return to Headlines
Dear Apex Cougar Families,
I hope this message finds you healthy and well! Today's update is a combination of new information and a recap of the mid-week update (sent 3/25) that covers next steps in remote learning at Apex ES.
Maintaining Your Student's Emotional Safety
WCPSS has provided a website for parents regarding student's emotional safety during the COVID-19 shutdown.
Virtual Dance Party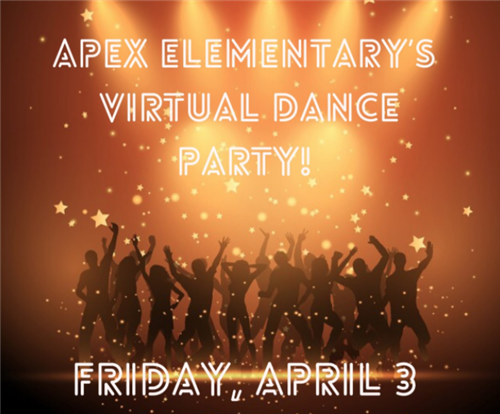 Please join us with your student(s) this Friday, April 3, to have some virtual dance party fun with us and to check in with some of your Cougar pals. Please see the Google Meet links below to join us as we dance ourselves into Spring Break!
Have a song request or two? Let us know here what you'd like to hear!
Field Trip Payments
Thank you for your patience as we awaited guidance from WCPSS on how to proceed with field trip payments that were received for trips that have since been cancelled due to the school closure. Parents in 2nd, 3rd, and 5th grade who made a payment for one of the cancelled field trips will receive a separate message in the coming days. This message will prompt you to fill out a Google Form indicating how you would like us to proceed. Please be on the lookout!
AIG Updates
Ms. Bell has provided some updates for AIG students and families. Please see the AIG Website for these updates.
Next Steps
Between now and the second week of April, we will expand continuous remote learning to include more structured learning via online student and teacher interaction.
To prepare for the delivery of new remote learning and instruction, Apex ES is doing the following:
Family Contacts Apex teachers and staff began calling all families at the end of last week. During this time, teachers may check on your families well being, confirm your contact information, see if you have any questions about the WCPSS remote learning site and discuss if you have device and/or internet access at home. If you have not received a phone call by close of business on Monday, March 30th, please reach out to your teacher, to ensure they have the best contact info for you and your student.
Beginning March 31st, teachers will begin to actively send you and your student(s) daily skill review, resources to review existing material and introductions to new material.
Delivery of hard-copy general instruction packets and technology for students WCPSS and Apex ES staff are keenly aware that not all students have devices, materials or internet access at home. WCPSS is working through those issues as well, including students without access, so that we can provide resources to those who need them. Please know that we are thinking about all of our families to ensure equity in learning. Delivery of these resources to students will start soon.
Spring Break
Spring Break is April 6-10. Students and staff are on vacation during this week.

New Remote Learning-April 13th
Students will begin to receive new instruction remotely on April 13th. The plan for delivery of new instruction will unfold in the coming days. I will be sure to communicate any details once they are known.
Food Collection and Distribution
Specific schools have been designated as food production and food distribution sites. Please refer to this website for questions and contact information.
Support
Please know that I am here to support and serve you as your Apex ES Principal. Please do not hesitate to reach out with any questions or concerns you may be having. My email is kcaggia@wcpss.net. I continue to appreciate your patience and support as we work through the rollout of remote learning. We are in this together, one step at a time!
Apex Elementary's Vision: One family working together to provide a supportive, rigorous learning environment while developing life-long learners.
Warmest Regards,
Katie Caggia