Return to Headlines
JDE Weekly Parent Update 11/18/2022
JDE Parents,
Next week many of us will be celebrating the Thanksgiving holiday. As we enter this season of gratitude, I must take a moment to express how thankful I am for our amazing JDE staff, our hardworking PTA, and our supportive parents. Thank you for your partnership, and for everything you do to extend the learning opportunities at home. With your support, our school was able to exceed growth expectations last year; and we intend to do it again this year! We appreciate each of our families, and we hope you all have a relaxing and enjoyable Thanksgiving.
I am also elated to share our 2022-2023 JDE Teacher of the Year is Mrs. Barb Riordan! We are so proud to have her represent our great school! Congratulations!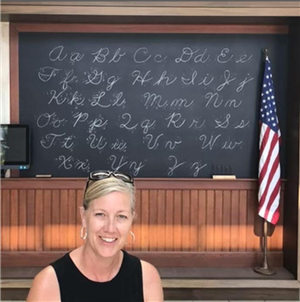 *The next weekly parent update will be sent out on Friday, December 2.
Updates for this Week:
New!

Reminders for Parents for Next Week (Thanksgiving Break)--Students will attend school on Monday, November 21 and Tuesday, November 22. School will be closed starting on Wednesday, November 23 and will resume on Monday, November 28.
New!

Upcoming Early Release Days--The next early release date will be Monday, December 5. Students will dismiss at 1:45 pm.

Students will also have an early release day on Wednesday, December 21.
New!

Candy Cane Grams--Please read the flyer below to find out more information about how to send some holiday cheer to a teacher or a friend.
Angel Tree Reminders-- This is just a friendly reminder to please drop off Angel Tree gifts on or before December 5 so we can make sure families receive their gifts for the holidays. Each gift should be wrapped and labeled so we know what you've purchased (ex. A1, A2, etc.)
Yearbook Snap--

Yearbook Snap is a new opportunity for Jones Dairy students & family to submit photos to possibly be used in the 22-23 JDE yearbook. Yearbook Snap can be accessed in the link below or in the QR code.

Our code to submit your photos of JDE students only at school events or activities in the community is: jdeyearbookphotos

Kidz Art Session 2--KidzArt drawing lessons begin on Nov 30 (Dec 7 for Track 2 students). Classes meet on Wednesdays in the Art Room (4-5 pm) and open to K-5th grades. Students participate when track in. Each week, your child will bring home a finished artwork that he/she will be proud!
Volunteer Registration Information for 2022-2023
Volunteer Registration for 2022-2023--This year each classroom will be offering volunteer opportunities, and we will need volunteers for field day, fun days, and field trips. Please read the guidance below for the 2022-2023 school year.

Current volunteers--Current volunteers who were approved for the 2021-22 school year do not have to register again this year.

Please email Ms. Sandra Cosby at scosby@wcpss.net if you would like to check your current approval status.

New Volunteers--All new volunteer applicants must register and have an approved criminal record check prior to engaging in volunteer work.

New volunteer applicants may go to any WCPSS work site and register through wcpss.net by selecting the Community tab, and then selecting Volunteer

Applicants will be notified by email once their application has been approved.

Applicants who are not approved will receive notice from Employee Relations.

Registration Process for WCPSS Employees Who Want to Volunteer--Although WCPSS employees do not have to go through a criminal record check to volunteer, they do need to register.

How do I register at JDE? Parents may register at our school Monday-Friday anytime between 9:30 am and 3:00 pm.

Please bring your license and ring the front doorbell to let our staff know you are here to register to be a volunteer.
With pride,
Altonia Bransome, Principal
The PTA is excited to invite our JDE families to our Jammie Jam event on Dec. 2. It's a dance that you don't have to get dressed up for!! Wear your best holiday PJs and come celebrate the season! Admission to the dance is free. Meals and Gingerbread House kits must be pre-purchased via Memberhub.

Click below to order yours!

The PTA is asking for volunteers to make this event happen. Click below to register to volunteer at the Jammie Jam.

JDE Book Fair Information

JDE PTA is also hosting a Scholastic Book Fair, Dec. 1 -7. Click here to learn more, including a how to use e-Wallet to avoid sending in cash with your students.

The PTA is also in need of volunteers for the Book Fair. Volunteer roles include helping younger students shop and checking out purchases. Please sign up below. Shifts are 9:30a-11am and/or 12p-2:30pm on Dec 1st, 2nd, 5th, 6th, and 7th. Sign up for one shift or for more! You must be an approved WCPSS volunteer.