Return to Headlines
PRINCIPAL MESSAGE WEEK OF FEBRUARY 5, 2023
February 5th
What a great week of learning and celebrating Red Ribbon Week! We are blown away by your generosity and care for those in need. You are raising compassionate children who live the Other Person Mindset that we talk about from Positivity Project and we thank you for sharing them with us every day!
Absences
In order to streamline the process for parents notifying the school when students are absent , we have created one form to submit for your child. There is no need to send a message to your child's teacher in talking points to notify them of an absence. Please complete this FORM. Thank you for your adjustment to a new process for DDE.
WAKE UP and READ!
Please consider donating gently used books to our Book Drive! Please bring books to the front of school and place them in the boxes. Last year we collected over 2,500 books! This year - let's aim for 3,000!!

Carpool Reminders
We value instructional time and the safety of every child at DDES. To ensure the carpool processes support this, please remember the following guidelines:
We safely unload an average of 400 cars in 30 minutes on a daily basis, thanks to the help of our staff who brave the weather for your children every day! Please plan ahead on rainy days for this number to increase with walkers and many regular bus riders often choosing to drive instead. General traffic increases on rainy days on the roads surrounding the school, as well. Back up the time you leave your house on those days to ensure a timely arrival.

Instruction begins promptly at 7:45am. Students are counted tardy if they are not physically in their classroom when the 7:45 bell rings. Students who arrive at either carpool loop at 7:44 are given a pink tardy slip and must walk through the building to all classrooms as adult supervision shifts to instructional duties promptly at 7:45.

Both carpool loops have an initial rush at 7:15, with lighter traffic flow until 7:30. Arriving before 7:30 will spread out the flow and allow you to exit more quickly. This will also give your children time to settle into their classrooms and prepare for instruction to start at 7:45, as well.

All students arriving from 7:45 on must be checked into the Main Office by parents. No students may enter the school through back carpool loop starting at 7:45 to protect instruction that has begun in the K-1 hallway at that time.

All parents must remain in their cars in the dropoff areas to protect their safety and ensure efficiency. Staff are present to assist students as needed.

In both carpool loops: Remain in a single lane with no passing and pull up to the car in front of you to maximize the number of cars in the unloading zone.

Back carpool loop: As you enter from Collins Road, the traffic flow is a right turn only for safety. No students may be unloaded before the designated unloading area on the loop that is supervised by staff to ensure safety

Maps and additional details are on the Carpool Information sheet linked in the DDES website.
*We take the safety of every child and staff member very seriously and appreciate your adhering to these guidelines each day.
Walker/Bike Rider Reminders
Remain on crosswalks and sidewalks at all times to remain safe around cars. The traffic flow and traffic cones are structured to protect you as long as you remain on the crosswalks and sidewalks

Please transition away from the school promptly after leaving the building in the afternoons
Red Ribbon Week
Red Ribbon Week was a huge success! Thank you to the amazing PTA parents, the Red Ribbon Week Committee, and the RRW 5th grade helpers! It takes many people to plan and implement an event that involves the whole school, so we really appreciate the great decorations, the gifts for the students, and all of the volunteers that helped pack and organize the donated food! The students really had a fun week!
Not only did we have a great time dressing up each day, but Davis Drive Elementary also donated over 7,000 items of food to the Fuquay-Varina Emergency Food Pantry! The Food Pantry wants you to know how thankful they are for your very generous donations!
The classes that donated the most food per student are:
Culver

Sheeler

Gannon

Long

Harmer
Our overall school winner was Mrs.Culver's ​4th grade class; they donated over ​500 items! All 5 classes won a pizza party to be held later this year.
During Red Ribbon Week, we also had a 5th-grade poster contest.
The winners were:
1st place: Divina Salve (Silvester)
2nd place: Sethul Kuruwita Arachchi (Fussell)
3rd place: Shreya Ramakrishnan (Roberson)
Report Cards
All grades will send report cards home on Monday, February 6th.
Car Tag
Always remember to carry your car tag with you!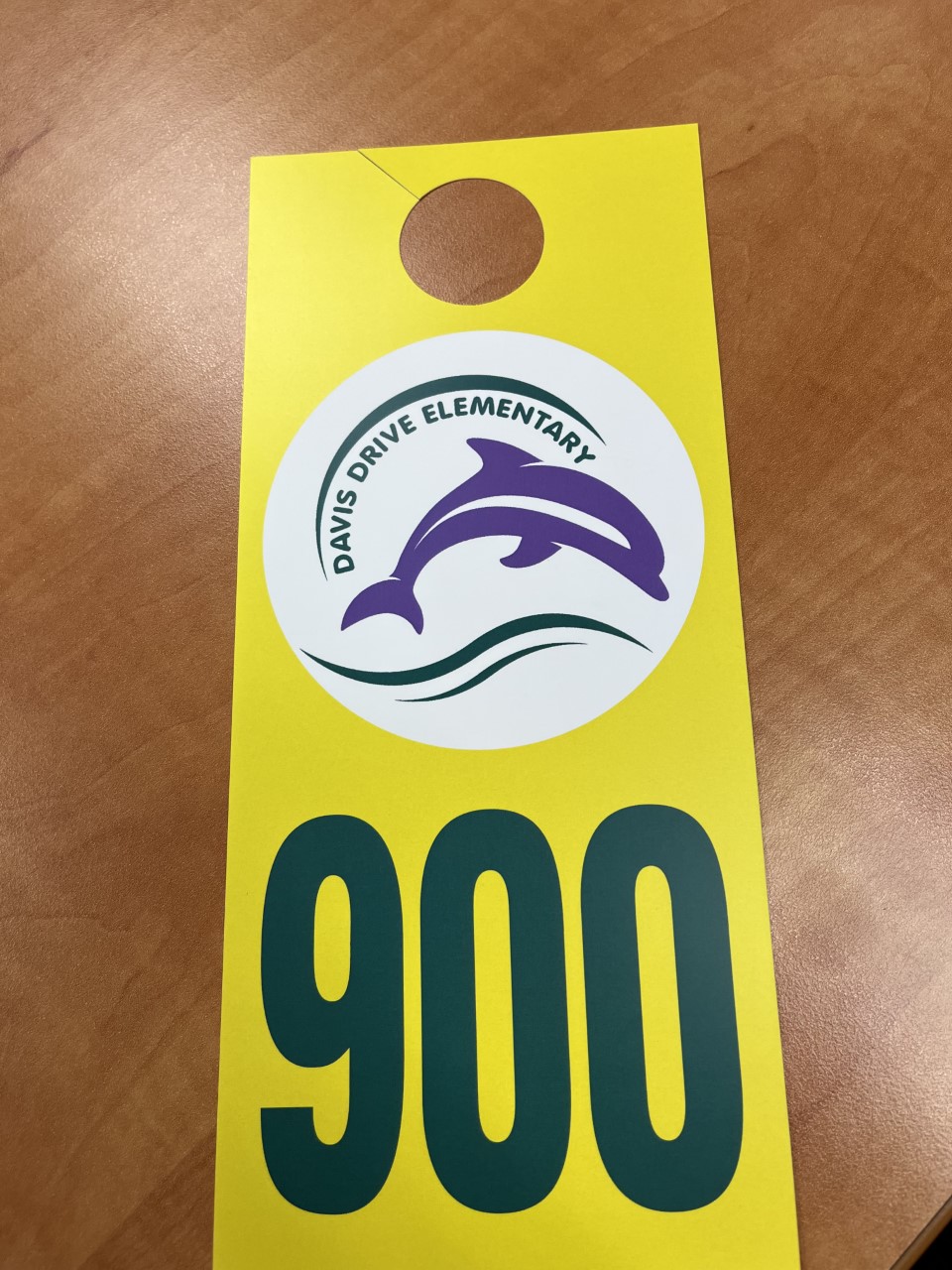 International Fair - March 10th
On March 10th from 5:00-7:00pm Davis Drive Elementary School will hold an International Fair. Please complete this form if you would like to share a piece of your cultural heritage with our school community.
We are looking for dancers, native dress and other special artifacts of your family's cultural background. Families will join together to plan a display table for a country.
Visitor/Volunteer Opportunities in our School!
Composting
Would you like to help the planet in 30 minutes right from DDE? Please consider helping children navigate composting. Training is available for all volunteers! View the sign-up here. Please contact Jessie at VPDDEPTA@gmail.com with your questions!
PTA NEWS - Week of February 5th
We need your candid photos for the yearbook! Please upload your child's school related photos → here.

Positivity Grams will be sold before school Feb 6th-9th - 5 grams for a $1 CASH ONLY - Click here for more info! (is your child a bus rider? Tell them to stop by the front of the school to purchase their Grams!)

Looking to get involved with the PTA??!! - Positions available for the 2023-2024 School Year Include: President, VIce President, and Treasurer. We are starting to plan for the 2023-2024 School Year and will begin the nomination and election process for several positions. Interested in learning more? E-mail Ashley at ddeptapresident@gmail.com

Thank you all for all of your donations thus far; your generosity has helped us stock the Teachers' Lounge with snacks and beverages. As we fuel up for the second half of this school year, we need to restock, and could use the help of our parent community again to help make these special treats available for our staff for the rest of the year! Please find the sign up here: https://tinyurl.com/moreteachersnacks

SAVE THE DATE - Spring Carnival - April 22nd 1:00-5:00pm RAIN or SHINE!