Return to Headlines
Principal Message Week of January 22, 2023
Good afternoon Davis Drive Elementary families,
It is hard to believe we are heading to the end of January! While it can be dark and cold in the morning please do your best to bring your children to school on time. As a reminder, students need to be in the classroom at 7:45 when the bell rings. That is when instruction begins for all students. A few minutes late each day can add up to a considerable amount of lost instructional time. While our carpool line can get long at times (especially rainy days) please plan your time accordingly. I can say that if you come at the beginning of our drop off time, 7:15am, we have hardly any cars and our carpool staff are ready to greet your children for the start of their day. Thank you for working together with us to make the best use of instructional time for your children.
Carpool Reminders
To ensure all students and staff remain safe during arrival and dismissal times, please remember the following established guidelines:
All parents must remain in their cars in the dropoff areas, for their own safety as well as for efficiency

Plan to arrive early enough in the morning to prevent your child from being tardy and missing important instruction at the start of the day. All students arriving at 7:44 will be given a tardy slip as arriving at that time will prevent them from being in their classroom when the bell rings at 7:45. (Tardies are defined as not being in the classroom at 7:45)

Maps and additional details are on the Carpool Information sheet linked in the DDES website.
Car Tag
Always remember to carry your car tag with you!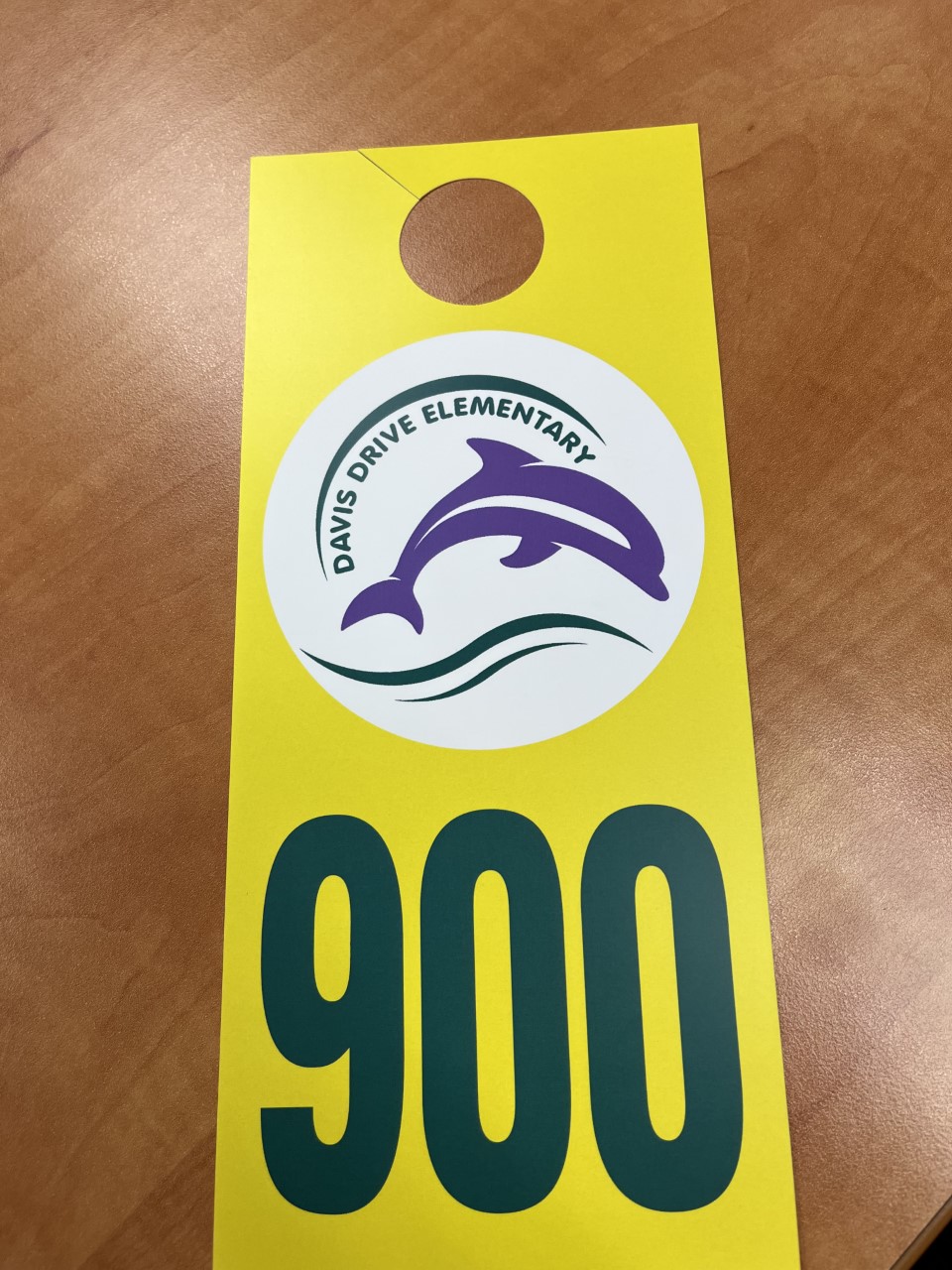 Red Ribbon Week Information:
This year, RRW will be from January 30th to February 3rd. During the week we will celebrate being a school that is drug-free and against bullying! We will have 5 dress-up days and we will also have a food drive to collect food for the Fuquay-Varina Food Pantry. Classes that bring in the highest percentages of food (total # of food items divided by the # of students in the class) will win a pizza party for their class!
Annual Food Drive will take place during the week of January 30th until February 3rd. We look forward to all students and parents participating.
We are requesting parent volunteers to sign-up during that week to sort, count and stock all the canned/packaged food donations coming in all through the week.
This volunteer opportunity is for all parents - You do not have to be an approved volunteer for this activity - Please Sign up here. Your food donations and volunteering help are sincerely appreciated.
The Food Drive also requires a large amount of small and medium cardboard boxes! We need at least 200 BOXES!! Please drop off your boxes outside the front door under the breezeway anytime during the week!
A digital copy of the flyer can be found here.
Red Ribbon Week - Poster Contest for 5th graders
The theme is "Stand Up, Stand Strong, Stand Together!" 5th grade students will receive information about this contest during their counseling lesson in early January. We would love to see our hallway decorated for Red Ribbon Week, so please consider participating! The POSTERS are DUE: Tuesday, January 30th!
International Fair - March 10th
On March 10th from 5:00-7:00pm Davis Drive Elementary School will hold an International Fair. Please complete this form if you would like to share a piece of your cultural heritage with our school community.
We are looking for dancers, native dress and other special artifacts of your family's cultural background. Families will join together to plan a display table for a country.
Visitor/Volunteer Opportunities in our School!
Composting
Would you like to help the planet in 30 minutes right from DDE? Please consider helping children navigate composting. Training is available for all volunteers! View the sign-up here. Please contact Jessie at VPDDEPTA@gmail.com with your questions!
PTA NEWS - Week of January 22nd
Honor a Teacher:
Excellence in teaching – we know it when we see it. It can be the teacher who spends extra time with the students who need it most, or the teacher who is creative enough to inspire a real love of learning in a student. Perhaps it's a teacher who cares enough to be involved with their students beyond the classroom. Whatever their methods, certain teachers make a real impact on students and their learning abilities.
We would like to recognize one such teacher and we need your help. The Cary Chamber of Commerce has been a leader in supporting education in our community through numerous programs and activities. One of the most critical needs of Wake County schools is that of attracting and retaining the best classroom teachers. With the Cary Chamber of Commerce's Honor a Teacher Program we hope to help our school system in meeting that challenge.
Building on the success of the Discovery Award first sponsored by the Ashworth family in 1991, followed by the Clara Knoll Award in 2000 by Barry and DJ Mitsch, the Cary Chamber has secured sponsors to develop a teaching awards program for all schools in the Cary Area.
We are asking our community to nominate teachers for this award. Included with your nomination, please describe why you feel this particular teacher deserves this award. Nominations must be submitted no later than Friday, February 17 at 5:00pm. These nominations will then be narrowed down to finalists that will be interviewed by a designated committee.
Please complete this form: https://forms.gle/73dpXwsWGcNqh2HX7
Girls on the Run Club
Dear Parents, We need your help to make the spring season of Girls on the Run happen at DDE!
Girls on the Run is a national organization that supports 3rd-5th grade girls in gaining a better understanding of who they are, recognizing the importance of teamwork and healthy relationships, and learning how they can positively connect with and shape their communities and world. The social-emotional curriculum themes include: turning negative self-talk into positive self-talk, understanding emotions, standing up for self and others, forming and maintaining healthy relationships, and making an impact on the community.
In order to offer a spring team at DDE, we need three or more adult coaches (female or male), preferably a combination of teachers, staff, parents/guardians and family friends. The coaching role is a rewarding volunteer position that requires 6-hours of in-person training, followed by the commitment to attend the season meetings. You do not have to be a runner to participate and be a great coach!
The Junior Coach role is open for 16 to 18 year old high school girls looking to grow their leadership skills and serve as role models to program participants.
The season begins the week of February 27th and culminates on May 20th with a local 5K run. The group will meet twice weekly after school for 75 minute sessions, during 10 weeks. The program fee is $205 per girl; need-based financial aid scholarships are available.
If you or your family is interested in learning more about GOTR, please reach out to Melissa Kirkton melissa.kirkton@gmail.com at your earliest convenience. We need your support as a volunteer to make this season happen!
Tennis Club:
CLASS DATES: Friday, February 24th - Friday, June 2nd
CLASS AGES: K-5 CLASS
TIME: 2:30pm-3:30pm
CLASS COST: $250 (Every Friday at the School)
Tennis Time Coaches supply everything for your child - Including: Age appropriate kid size Rackets, Foam and Low compression balls, Portable Tennis Nets & lots of FUN! Among other things kids will learn all about Tennis including:
● Forehands ● Backhands ● Serves ● Volleys ● Hand-eye coordination ● Speed & Movement coordination ● How To Keep Score ● Tennis Games ● Balance...And more…
Enroll Online Today: http://www.TennisTimeDavisDrive.com