Return to Headlines
Principal Message Week of August 14, 2022
Good afternoon Davis Drive Elementary families,
We are a few days away from teachers returning to prepare for your children for the 22-23 school year. We have put in new procedures for student safety so please read through arrival/dismissal procedures below. A big change will be for how walkers are dismissed. While these changes may seem cumbersome at first, I'm sure we can all agree that student safety is number one. We appreciate your help in making our arrival and dismissal as safe and orderly as possible.
Early Release dates:
This school year WCPSS will have 5 early release days from school. This means that students will be dismissed 2 hours early(12:15pm) on the following days:
September 2
November 10
December 5
December 21
March 24
May 9
Carpool:
Morning Traffic Flow
Morning Safety Guidelines
Students will be received from 7:15-7:45

Carpool staff will transition to instructional duties at 7:45 and parents must walk all students into the Main Office to check in after that time

Students should exit vehicles on the school side

Cars may only drive in a single lane and not pass around any others

Turning left onto Davis Drive when leaving is difficult with the morning commuter traffic and buses. Consider turning right at that intersection and reversing direction at another location

Have students ready to exit cars as you pull to the unloading spots in front of the school. They should have shoes/outerwear on and backpacks/lunchboxes ready to transition to the building

Students will efficiently transition to either the cafeteria for breakfast or directly to their classroom
Afternoon Traffic Flow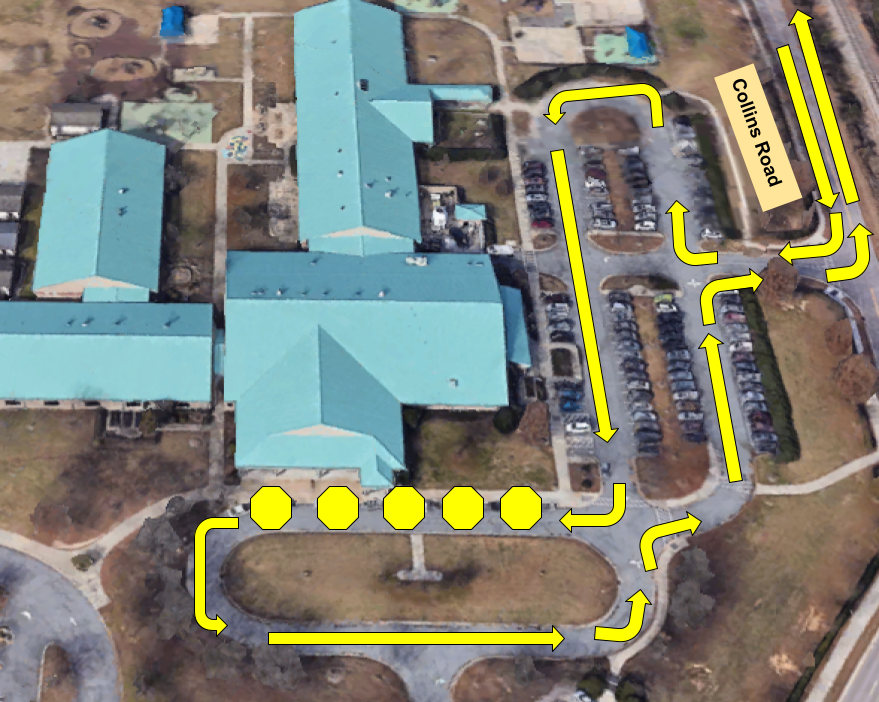 Afternoon Safety Guidelines
Hang your Transportation Number tag from your rear view mirror

Students are called to the waiting area once their number is viewed by school staff in the vehicle picking them up

Remain in the driver's seat while students are loading. Staff will be present to assist students as needed

Once loaded, continue driving toward Collins Road without stopping

Cars may only drive in a single lane and not pass around any others
Walkers:
New Waiting Pool Locations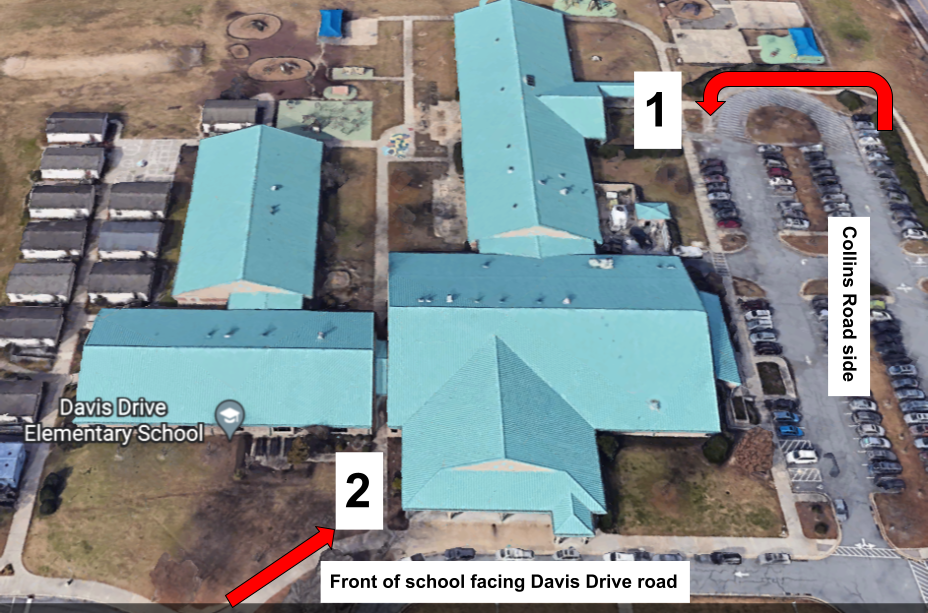 General Walker Safety Information
Students will only be permitted to walk or ride a bike home after the agreement form is signed and returned

All walkers will exit through the interior door by the Waiting Pool nearest their path home

Students in trailers will re-enter the building at the breezeway and be escorted to the Waiting Pool nearest their path home

The student transportation tags of all walkers will be scanned as they leave the building

K-2 walkers will only be released to responsible adults, or older DDES siblings after parental approval is given by returning the Walker Agreement form

3-5 walkers will be permitted to walk without adults after being checked out through the interior Waiting Pool nearest their path home
Parents will line up outside of the Waiting Pool door on the right hand side of the sidewalk. Students will be released to the responsible adults who share the student's transportation number

Families will immediately transition away from the building to ensure safety during the entire dismissal time

Keep all children and pets with you on the sidewalk, away from transitioning students and buses

Communicate any transportation changes by 1:30 directly to the main office at the number listed below. Messages sent directly to teachers may not be received in a timely manner leading to dismissal errors
Waiting Pool 1 Path
Parents will enter the campus from Collins Road and follow the sidewalk along the outside of the rear car loop past the K-1 playground, as indicated on the map

Stay on the sidewalk at all times and line up under the overhang outside of the door, on the right hand side

Leave campus on the same path, walking toward Collins Drive and remaining on the sidewalk
Waiting Pool 2 Path
Parents will remain on the front walkway from the Middle School side, waiting outside the door in the alcove near the art room

Stay on the sidewalk at all times, allowing students transitioning to buses to cross first

Ensure all accompanying siblings and pets remain on the sidewalk and away from buses and vans

Leave campus along the same path, continuing through the middle school campus without stopping
Student Check-out:
If you are checking out your student from the office, please make sure to have a photo ID for our school safety protocols. Our students will only be released to the people listed on the Contact Verification Form. Please make sure to keep this form up to date.
PTA News - Week of August 15th
Bus Information
August 18: SchoolMessenger sent to families reminding them that route information will be sent via SchoolMessenger and posted on the DDES website the following day
*Be sure the school has your most current contact information to receive these
August 19: Bus Route information will be sent via SchoolMessenger and posted
August 26: Here Comes the Bus app for real time information on bus routes is available
Registering for Here Comes the Bus:
-WCPSS code for the yellow bus is 67500 and Vendor transportation is 67501
-Enter your child's exactly name as it appears in PowerSchool, including hyphens if needed
Additional transportation questions can be addressed at the Transportation table at the Meet the Teacher event on August 26th or by emailing Rozanne Todd, Assistant Principal, at rtodd@wcpss.net
Cafeteria:
| | | | |
| --- | --- | --- | --- |
| Meal Prices 2022-2023 | Elementary | Middle | High |
| Breakfast | $1.50 | $1.75 | $1.75 |
| Lunch | $3.00 | $3.25 | $3.25 |
*State funding for the 22-23 SY allows CNS to provide breakfast and lunch at no cost to students eligible for reduced-price meals
After July 1, families must apply for Free & Reduced-Priced Meals at MySchoolApps.com (or complete a paper application) and be determined eligible for benefits in order to receive meals for free or at a reduced-price rate for SY 2022-23. A new application must be completed every school year to determine that year's eligibility status

Menus are posted wcpss.net/menus. Menus specific for each school and based on what the manager has planned to serve are available at schools.mealviewer.com
Prepayment Accounts
Parents can create and fund individual student accounts at MySchoolBucks.com. Student purchases can be viewed and spending limits can be set through this portal.
Meet the Teacher:
Meet the Teacher will take place on Friday August 26th. Due to parking constraints we have staggered the times for Meet the Teacher. Information tables will be located in front of the Media Center and main hallways. PTA will be there with spirit wear for sale as well as signing up to be a member of the PTA. Class lists will be posted outside the building for each session. Kindergarten will have a time to meet the team this day (in the gym) but will not find out their individual teacher until after staggered entry (info below).
9:00-9:45 5th and 1st grade
10:15-11:00 3rd and 4th grade
11:30-12:15: Kindergarten and 2nd grade, ECS 1 and 2
Kindergarten Staggered Entry:
All Kindergarten students will come to school one day the week of August 29th (Mon, Tue, or Wed). Students will be individually assessed and introduced to the school. Our Kindergarten team will create class lists on Thursday. The official Meet the Teacher or Kindergarten will take place on Thursday September 1st from 3:00-4:00pm.
Your child's staggered entry day will be organized alphabetically by last name.
A-G: Monday August 29th
H-R: Tuesday August 30th
S-Z (and any new enrollees) Wednesday August 31st