Return to Headlines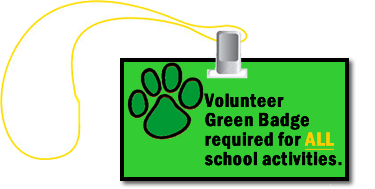 Parents, this is an important reminder that you must have volunteer clearance (green badges) to attend and/or volunteer at any of the many important school events. Below are a few examples of events where you would need a green badge to attend or volunteer:
Field Day, Field Trips, Class Picnics:
Classroom Learning Experiences such as Mother's Day events;

Events held in our School Library during the school day;

Student events or presentations that take place in the classrooms or anywhere on campus other than the cafeteria or gym during the school day.
It only takes a few minutes to apply for volunteer clearance which can be done in our School Library between the hours of 9:00 am and 3:00 pm.
You will only need your driver's license number and social security number along with home addresses for the last 10 years.
Remember, for your convenience, you can apply at ANY Wake County School. Just be sure to check "Apex Elementary" as one of your schools so we will be notified of your approval to prepare your badge

There can be no exceptions made to this important safety measure.