Return to Headlines
October 19 Weekly Message
Hello Pleasant Grove Families,
This is Principal Batten with news about what to expect for the upcoming week at Pleasant Grove Elementary.
What will this week of school look like:
On Monday, October 19 Student Instructional Materials for Quarter 2 will be distributed to all families between 1:30 PM – 5:30 PM. All grades, except for 1st Grade, will have materials to distribute. These items include instructional materials for use during remote/online at home. Pick-Up will be through the school carpool loop. All families should remain in their vehicle.
The Positivity Focus for this week is Forgiveness.
The PTA is hosting an Outdoor Scholastic Book Fair this week. On Tuesday, October 20, families can do drive-thru shopping in the school carpool loop from 4 PM – 6 PM. On Thursday, October 22, families can do walk-up shopping from 4 PM – 6 PM outdoors. For more information and options for online shopping visit http://bit.ly/pgbooks20
This Friday, October 23, is a Teacher Workday. No school for students on Friday.
We look forward to welcoming students back to school on October 26. A calendar showing the weeks when student groups will be able to attend school is posted at http://bit.ly/pgplanB . Families can download a copy of this calendar at the link posted below:
Plan B Calendar October 26 - January 15
---
Student Materials Pick-Up: Monday, October 19
The following materials will be distributed to families for student learning Monday, October 19, between 1:30 PM – 5:30 PM.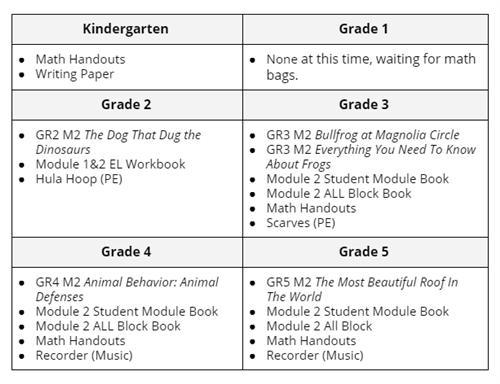 ---
District Updates: WCPSS Transportation will contact families this week to share information about bus routes and stops if your child is eligible for WCPSS bus transportation.
Families who are on Plan B will need to sign and acknowledge that they have reviewed the WCPSS Student Accountability and Health Protocols Form. Visit https://www.wcpss.net/Page/46151 to read this information and sign the required form. You will return the signed form to your child's teachers.
At this time whatever learning environment (Plan B or Virtual Academy) your family has selected, will be the environment you will need to follow, at least through the fall semester. All families will have an opportunity to select which option (Virtual Academy or Plan B/in-person learning) that they desire for the spring semester. WCPSS has indicated that this process will occur in December.
---
What will school look like during reopening:
We are excited to welcome students back to school. Visit http://bit.ly/pgesreturn for details and videos that teachers have created to support students with what to expect. All students who have received WCPSS issued chromebook devices will be expected to bring their WCPSS issued device fully charged, along with their charging cord, with them to school each day.
More information about what school will look like for students can be found at this link: https://www.wcpss.net/Page/33111
Families should review the Return-to-Campus Guide . Additional updates from WCPSS can be found here.
---
Yearbooks: Yearbooks can be pre-ordered by October 23 at a reduced price. Visit http://bit.ly/PGyearbook21 for details.
Meal Benefits: If your family has not already completed a 2020-2021 school year Free and Reduced Price Meal Application, please do so. Families can fill out the annual request for free & reduced lunch at: https://www.myschoolapps.com/Application . For more information about meal benefits, visit https:www.wcpss.net/Page/1849
Pandemic Benefits: The State of NC has added additional P-EBT benefits for families with students receiving free or reduced-price lunch. Please be sure to share with families and check visit this link to learn more about the extension of benefits.
---
PTA Scholastic Book Fair: Visit http://bit.ly/PGESBookFair2020 for more details.
Technology Support: Call Student Tech Help at 919-694-8100 or visit https://www.wcpss.net/techguides
Student Online Behavior Expectations: https://www.wcpss.net/Page/45545
Sincerely,
Burt Batten, Principal