Return to Headlines
October 12 Weekly Message
Hello Pleasant Grove Families,
This is Principal Batten sharing an update about what to expect for the upcoming week at Pleasant Grove Elementary.
What will this week of school look like:
On Tuesday, October 13 all Pleasant Grove students will participate in another TACO Tuesday. TACO is an acronym for Take A Child Outside. We want to provide a time for kids to get outside, get active at home, and break away from working on the computer.
The Positivity Focus for this week is Being Present and Giving Others My Attention.
Next Monday, October 19, Pleasant Grove families will be able to pick up school materials for their children to use during the 2nd Quarter between 1:30 PM – 5:30 PM. At this time, all grades except for the First Grade, will have materials to distribute.
Pick-Up will be through the school carpool loop. All families should remain in their vehicle until asked to exit by school staff. Follow social distancing guidelines. Wear a mask if exiting the vehicle.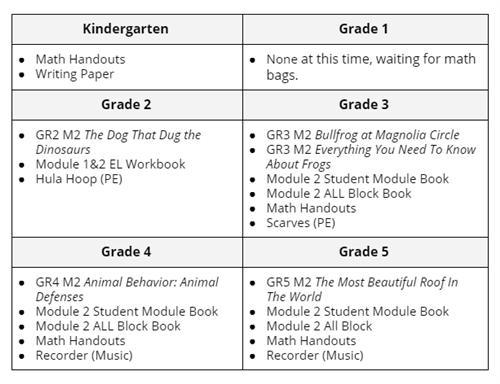 Recording Google Meets: Recently, WCPSS announced that teachers could record Google Meets. There are privacy concerns with this decision. Read more here. WCPSS has stated that families have the right to Opt-Out of their child being part of any Google Meet recordings. If you want to "opt-out" of having your child be part of any live Meets that are recorded, please submit a letter in writing (hard copy or email) to your child's teacher by October 15.
---
District Updates: WCPSS has announced that it will begin allowing small groups of students in Preschool, Regional Special Education Programs, and Grades K-3 to return to school on October 26. Read more details at this link.
At this time whatever learning environment (Plan B or Virtual Academy) your family has selected, will be the environment you will need to follow, at least through the fall semester. The School Board has indicated that all families will have an opportunity to select which option (Virtual Academy or Plan B/in-person learning) that they desire for the spring semester by late October/early November.
We are excited to welcome students back to Pleasant Grove. When the school reopens there will be changes that all families and students will be expected to follow due to health and safety measures. Students will be required to wear masks. Visitors and volunteers will not be allowed into the building at this time. Temperature checks will occur before students enter the building. Families will be contacted and asked to pick up their child if they present symptoms during the school day. Students will need to bring their own water bottles to school. Water fountains are closed. Additionally, students will be expected to bring their WCPSS issued device fully charged, along with their charging cord, with them to school each day.
We will be sharing video resources to help students and families prepare for returning to school. More information about what school will look like for students can be found at this link: https://www.wcpss.net/Page/33111
Families should review the WCPSS Return-to-Campus Guide . Additional updates from WCPSS can be found here.
---
Yearbooks: Yearbooks can be pre-ordered by October 23 at a reduced price. Visit http://bit.ly/PGyearbook21 for details.
Meal Benefits: If your family has not already completed a 2020-2021 school year Free and Reduced Price Meal Application, please do so. Families can fill out the annual request for free & reduced lunch at: https://www.myschoolapps.com/Application . For more information about meal benefits, visit https:www.wcpss.net/Page/1849
Pandemic Benefits: The State of NC has added additional P-EBT benefits for families with students receiving free or reduced-price lunch. Please be sure to share with families and check visit this link to learn more about the extension of benefits.
---
PTA Updates:
Monday, October 12, 6:30 PM – 8:00 PM. Virtual Zoom Presentation "How to balance home/work and assist your children in online school" led by licensed therapist Heather McKenzie. Read more. Use this link to join:
https://us04web.zoom.us/j/74111517207?pwd=c3Vac2E0bTJSNERLbEdCcGwxT25NZz09
Meeting ID: 741 1151 7207; Passcode: e1z9Dv
Wednesday, October 14, 5 PM – 9 PM. PTA Family Night @ Schiano's Pizza, 13220 Strickland Rd., Raleigh in Leesville Towne Center.
PTA Scholastic Book Fair: Visit http://bit.ly/PGESBookFair2020 for more details.
Saturday, October 17: Drive-thru Book Fair shopping, 10 AM – 12 PM; Walk-up Book Fair shopping, 12:30 PM – 2:30 PM
Sunday, October 18: Walk-up Book Fair shopping, 1:00 PM – 5:00 PM
---
Technology Support: Call Student Tech Help at 919-694-8100 or visit https://www.wcpss.net/techguides
Student Online Behavior Expectations: https://www.wcpss.net/Page/45545
Sincerely,
Burt Batten, Principal