Return to Headlines
Paw Print
May 3rd, 2023
Message From Our Principal
Greetings, Highcroft parents and families! Next week is 'Teacher Appreciation Week' at Highcroft Drive ES. Get ready to celebrate the amazing teachers we have here at Highcroft. Not that I am biased, but I think we have the best teachers and staff around!!
Do not hesitate to reach out with any questions or concerns. Have a great rest of your week!
Catherine Shearin, Principal
Husky SPCA Pet Drive
A special thanks to all of the families who donated items to our Husky SPCA Pet Drive. We donated many valuable items including food, blankets, treats, toys, and gift cards to the Wake County SPCA.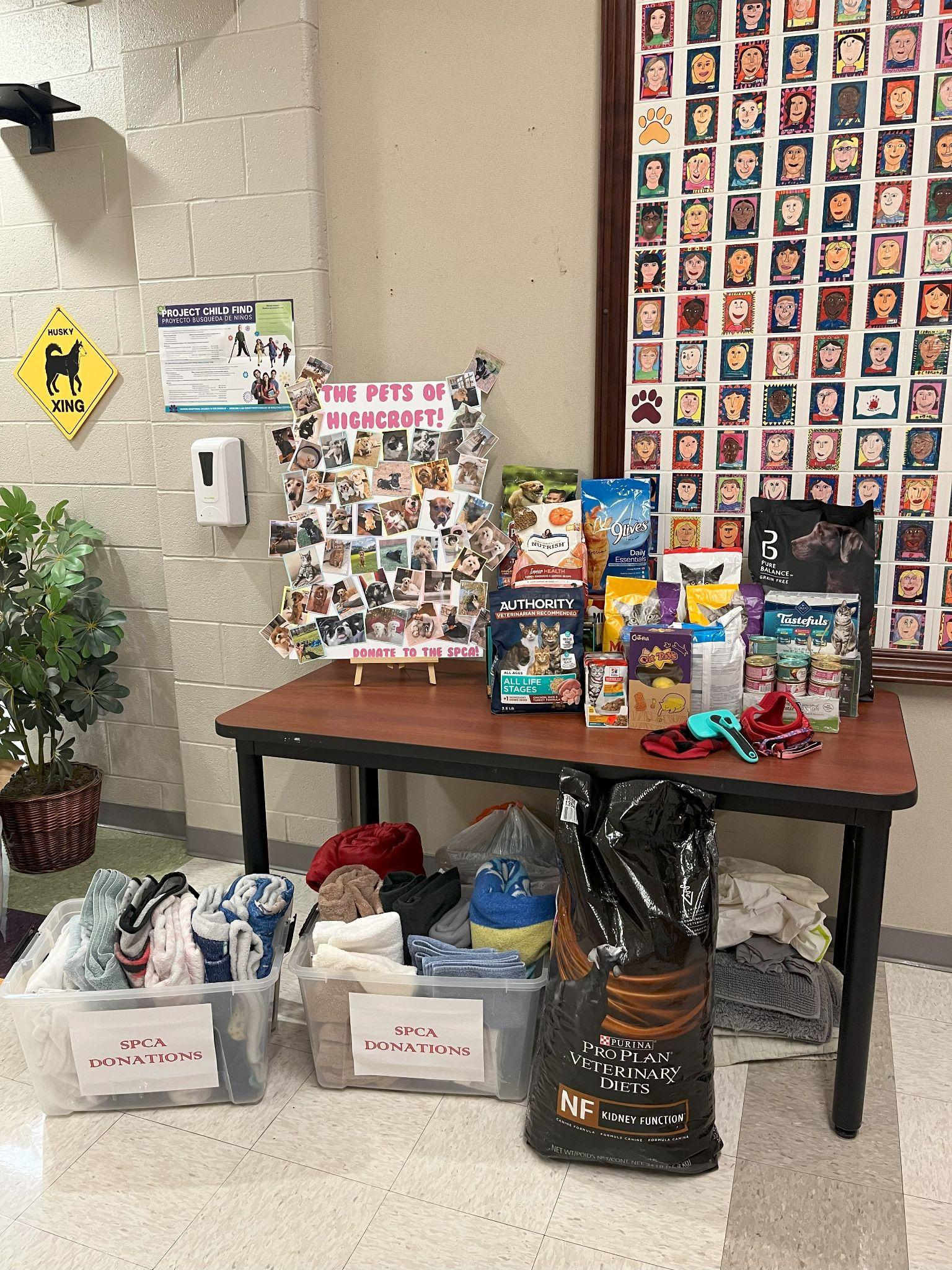 Spring Carnival is Back!!
We're so excited for our first in-person carnival since 2019! Mark your calendars now for May 12, from 5-8:00 p.m. Family, neighbors, friends, and siblings are encouraged to come and have some pirate fun. For the first time ever, we'll have a pirate dance party. All proceeds go towards PTA programs that enhance our school. More information will be shared in the PTA newsletter and a flier will be sent home.
During the Spring Carnival, we will be hosting a 'BOGO Book Fair' in the media center. Your child will receive a free book for each book purchased. What a great way to stock up for the summer and continue to build your child's love of reading.
Kindergarten Parent Orientation
Our Kindergarten Team will be offering a Kindergarten Parent Orientation on Thursday, May 11th at 6:00 in the gym. This is for the parents of rising Kindergarten students to learn more about schedules, curriculum, supplies, transportation, etc. This is a 'sit and get' presentation and not fun for kids. Therefore, try to leave your little ones at home during this time.
May the 4th Be With You!
This Friday, 5/5 is our next school spirit day. We will celebrate May 4th with a Star Wars themed 'May the 4th Be with You' day. Please leave the light sabers at home that day as no weapons (real or fake) are allowed on school campus.
Early Release
Our final Early Release Day for students is next Tuesday, May 9th. All students will be dismissed at 1:45. Please communicate with your child's teacher if transportation will be different that day.
EOG Testing
End Of Grade testing for all 3rd - 5th grade students will occur during the last 10 days of school. See our schedule below for dates. This is an important time of year for students, our school, and our district. EOG tests are used to measure grade level proficiency and growth from year to year. It is important that all students are present during testing times. Please help your child to be prepared for testing by ensuring a good night's sleep and a healthy breakfast each morning.
Monday - May 29th - Memorial Day Holiday - No School for Students or Staff
Tuesday, May 30th - Reading EOG for grades 3-5
Wednesday, May 31st - Math EOG for grades 3 - 5
Thursday, June 1st - Make Ups
Friday, June 2nd - Science EOG for 5th Grade
Read To Achieve for some 3rd grade students
June 5th - 9th - EOG Make Ups (as needed)
Field Day is Coming!
Field Day is always one of the most exciting activities to celebrate the end of the year! Mr. Masullo has many great activities planned. Field Day will be on Tuesday, June 6th (rain date of Wednesday, June 7th). K-2 will be in the morning, 10:00 - 12:00 and 3-5 will be in the afternoon, 1:00 - 3:00. Mr. Masullo is counting on many parent volunteers so please sign up at the link below.
5th Grade Picnic and Graduation
If you are the parent of a 5th grader, mark your calendars now. The annual 5th grade picnic is scheduled for Thursday, June 8th from 12:00 - 2:30 and the 5th grade Graduation will be Friday, June 9th from 10:00 - 12:00. Families can bring up to 6 family members for the celebration. Students may be checked out after the celebration and reception to begin the summer fun and preparation for middle school.
Be sure to visit the raffle during the Spring Carnival for a chance to win preferential seating and parking for this event. 😀
Parent Portal
Parent portal accounts have been set up for all parents at Highcroft Elementary. Please log into your account and make sure you can sign in. Wake County Schools will be using this platform to send out all communication in the future. You will be able to check your child's bus route over the summer to be assured your child is assigned to a bus and which route they should be riding
Spring Pictures
Spring Pictures from Strawbridge Studios were sent home this week. If you wish to purchase the pictures, please turn money in by May 10th. If you do not wish to buy them, simply return the pictures.
Panorama Family Survey
Wake County Public Schools is administering a District Wide Family Survey from Monday, April 10 through Friday, May 12. This survey provides families the opportunity to provide valuable information and a high-quality data source for planning and School Improvement.
The survey has been translated into various languages; Spanish, Arabic, French, Korean, Vietnamese, and Chinese in an effort to provide accessibility to families in Wake County Public Schools. The survey administration language can be chosen by families before taking the survey.
The link to access the survey is: surveys.panoramaed.com/wakecounty/family
Planning for 2023-24
It's hard to believe, but we are already beginning our planning for the 2023-24 school year. With that being said, families are already thinking about teacher placement for students for next year. I welcome input about your child, his/her learning styles, and teaching styles. The way your child learns and the type of teaching style that best meets your child's needs can be sent to me at kshearin@wcpss.net. We have an amazing staff of teachers in our school and at every grade level. Therefore, specific teacher requests should not be included in any information you provide as they will not be taken into consideration when placing your child next year.
Not Returning to Wake County Schools next year?
If you do not plan to attend a Wake County School next school year, please let us know for planning purposes as soon as you are able. Please submit the withdrawal form with the last day of school-June 9th. 5th Grade parents this is especially important if you do not plan to attend Mills Park Middle. They are a capped school for rising 6th graders. Once we receive the withdrawal form back, this will open a seat for a student on the waitlist.
-Visit the HDE Website for more details - www.wcpss.net/highcroftdrivees
-Follow us on Twitter @HighcroftDrive @HighcroftBuses
-Text Reminders: text the message YES to 67587