Return to Headlines
April 19th, 2023
Message From Our Principal
Greetings, Highcroft parents and families! I hope to see many of you on Saturday, 4/22 for our Earth Day Family Event from 10:00 - 11:00. We will be all working together on clean up and beautification of our school campus. Sign up at this link.
Please take a few minutes to complete the Panorama Family Survey. This survey gathers important data for our school and our district. It is important to determine how things are going (good or bad) with our Highcroft families and across the district. Panorama Family Survey
Do not hesitate to reach out with any questions or concerns. Have a great rest of your week!
Catherine Shearin, Principal
Welcome, Mrs. Plotkin!
I am so excited to introduce Mrs. Elizabeth Plotkin, our new Assistant Principal. She comes with amazing experience in teaching, leadership, and knowledge about education. With 3 boys of her own, Mrs. Plotkin understands the balance of school, home, extracurricular activities, working, etc. Please join me in welcoming our newest Highcroft Husky, Mrs. Plotkin.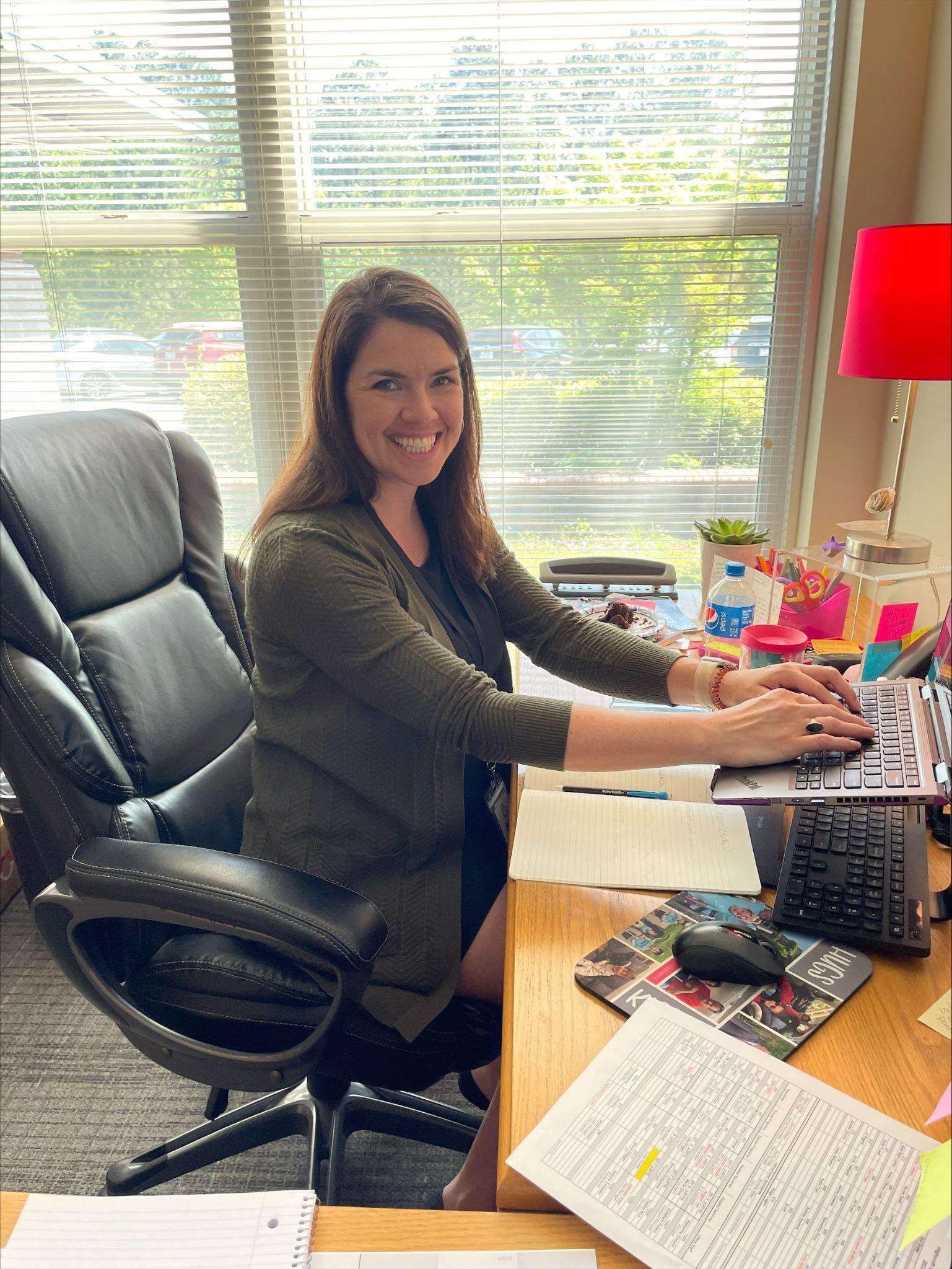 Teacher Workday - 4/21/23
This Friday, 4/21/23, is our next teacher workday so there is no school for students.
New Family Tour
Our next school tour for new families to Highcroft is scheduled for Monday, May 1st at 10:30. Spread the word to neighbors, rising K families, or others who are interested in learning more about our amazing school.
Kindergarten Parent Orientation
Our Kindergarten Team will be offering a Kindergarten Parent Orientation on Thursday, May 11th at 6:00 in the gym. This is for the parents of rising Kindergarten students to learn more about schedules, curriculum, supplies, transportation, etc. This is a 'sit and get' presentation and not fun for kids. Therefore, try to leave your little ones at home during this time.
Parent Portal
Parent portal accounts are in process of being created for those parents that have not yet signed up. Every parent will be required to have an account now. Wake County Schools will be utilizing this form of communication more in the future. Information will now be sent home through the portal. EOG test scores,attendance, transportation, and school assignments will be some of the information that will shared with parents.
Highcroft Husky SPCA Pet Drive
The PTA, in conjunction with our Husky Teachers, will be collecting gift cards, pet food, and new or gently used towels and blankets for the SPCA of Wake County from April 11-25. Gift cards to Target, PetSmart, or Petco should be given to Ms. Price (3rd grade hall) or Ms. Mahoney (5th grade hall). Dry cat and dog food in 3-6 pound bags and new or gently used towels and blankets can be placed in collection bins at the front of the school. Thank you for supporting our efforts!!!
Panorama Family Survey
Wake County Public Schools is administering a District Wide Family Survey from Monday, April 10 through Friday, May 12. This survey provides families the opportunity to provide valuable information and a high-quality data source for planning and School Improvement.
The survey has been translated into various languages; Spanish, Arabic, French, Korean, Vietnamese, and Chinese in an effort to provide accessibility to families in Wake County Public Schools. The survey administration language can be chosen by families before taking the survey.
The link to access the survey is: surveys.panoramaed.com/wakecounty/family
Chess Club is back!
We are so excited to reintroduce Chess Club as an optional after school activity for your students. Classes will be offered by Triangle Chess and is open to 2nd - 5th graders. This club will meet on Tuesdays at Highcroft from 3:45 - 5:00. Classes began this week and will end on June 6th. All levels of players are welcome. Sign up online at www.TriangleChess.com
Upcoming Family Event - Mark Your Calendars!
Dear Highcroft Families:
To celebrate Earth Day this year, we are planning on having an event to bring our families together and help clean up the school!
At this event on Earth Day, Saturday 4/22/23 from 10-11am, we will pick up trash around campus, pull weeds where needed, and plant in the garden. If you would like to participate, please sign up via this SignUpGenius link (https://www.signupgenius.com/go/8050a4da5af2ca4ff2-highcroft) by Friday 4/15/23. We hope to see you there!
Thank you,
Kelly Onyenwoke
konyenwoke@gmail.com
PTA Grounds and Beautification Chair
Planning for 2023-24
It's hard to believe, but we are already beginning our planning for the 2023-24 school year. With that being said, families are already thinking about teacher placement for students for next year. I welcome input about your child, his/her learning styles, and teaching styles. The way your child learns and the type of teaching style that best meets your child's needs can be sent to me at kshearin@wcpss.net. We have an amazing staff of teachers in our school and at every grade level. Therefore, specific teacher requests should not be included in any information you provide as they will not be taken into consideration when placing your child next year.
Not Returning to Wake County Schools next year?
If you do not plan to attend a Wake County School next school year, please let us know for planning purposes as soon as you are able. Please submit the withdrawal form with the last day of school-June 9th. 5th Grade parents this is especially important if you do not plan to attend Mills Park Middle. They are a capped school for rising 6th graders. Once we receive the withdrawal form back, this will open a seat for a student on the waitlist.
-Visit the HDE Website for more details - www.wcpss.net/highcroftdrivees
-Follow us on Twitter @HighcroftDrive @HighcroftBuses
-Text Reminders: text the message YES to 67587